Plugin Boutique has announced availability of Scaler 2, an update to the inspirational and powerful music theory workstation that gives you access to a world of new ideas, expressions and melodies.
The update comes with new chord sets, scales and instruments, MIDI capture, keys lock, performance mode, chord audio detection and lots more.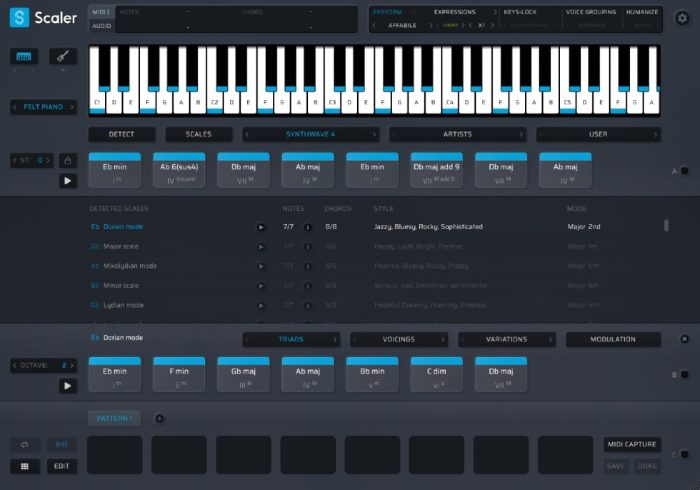 With powerful detection of MIDI and audio, Scaler 2 can determine what key and scale you're in and suggest chords that match your music. The plugin helps you discover the perfect melody with performance expressions, and can even suggest ways to change from one key to another.

Scaler 2 makes finding chords and progressions intuitive and fun! It's a comprehensive but easy to use toolbox that will help anyone make better music.
Changes in Scaler 2
Redesigned from the ground up with over 200 new chord sets, hundreds of new scales, and 30 new instruments.
Play melodic expressions with over 200 phrases, performances and rhythms by professional musicians.
Establish your scale with audio detection as well as MIDI detection.
Keys Lock helps you create emotive melodies by locking keys to your chords.
MIDI Capture lets you perform inside Scaler 2 and then export the results as MIDI.
Modulation suggestions give you new ways to reach musical destinations.
Get more natural-sounding melodies and expressions with the humanise function.
Edit Mode for adjusting length, inversion, octave and more per chord in a pattern.
Pad View helps you to arrange multiple patterns and key switch between them.
Audition new progressions in context with DAW Sync playback.
Voice Grouping can keep your chords within a certain range for voice leading.
Chord editing and moving tools include lasso, drag n drop, replace and insert.
Scaler 2 is on sale at an introductory price of $49 USD until July 1st, 2020 (regular $59 USD). It is available in VST/VST3, AU and AAX plugin formats.
Users of the original Scaler can upgrade to version 2 for $19 USD during the promotion (regular $29 USD).
Furthermore, Producertech has launched the Producer's Guide to Scaler 2 tutorial course at an introductory 40% discount.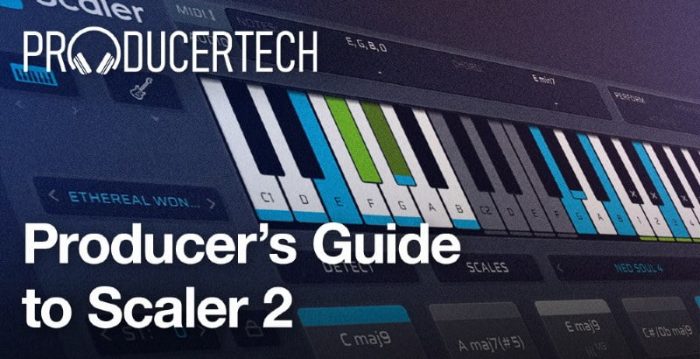 Scaler 2 makes creating musical patterns simpler and more enjoyable than ever, with a hugely-expanded feature set and improved interface, which make the software even more flexible and fun to work with than the already popular version 1.

In this comprehensive course from Producertech Senior Tutor Rob Jones, you'll be taken through every part of the plugin, whilst creating chords patterns, basslines, leadlines and arpeggios, working in a number of different DAW setups.
The course is also included in the Scaler 2+ Bundle and Scaler 2+ Advanced Bundle, which also includes the Advanced Guide to Music Theory for Producers.
More information: Plugin Boutique