Plugin Boutique has launched a sale on AutoTheory, offering 30% off the MIDI mapping software for Windows and Mac.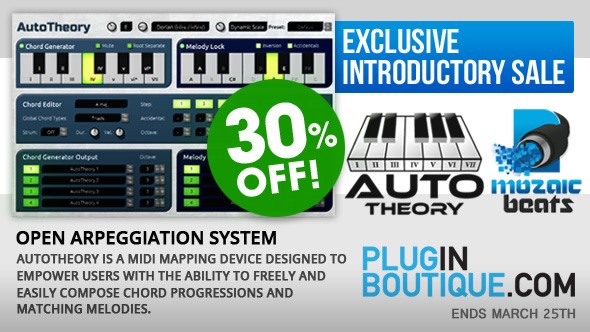 AutoTheory is a MIDI mapping device designed to empower users with the ability to freely and easily compose chord progressions and matching melodies. AutoTheory works as a filter that goes in between your MIDI controller/keyboard and your DAW.
AutoTheory features
Key & Scale Parameters – Easily create chord progressions and matching melodies from any key, and a wide range of scales.
Chord Generator – Play any type of chord progression imaginable while holding down single keys.
Melody Lock – Easily play matching melodies alongside of any chord progression through the patented Open Arpeggiation technology.
Chord Editor – Customize your chord palette in any way imaginable. Define any type of extended chord, apply any type of accidental, or use any type of inversion/voicing that you can think of with the patented Chord Editor system.
Device Outputs – Route the Chord Generator and Melody Lock to multiple instruments within your DAW, allowing for simultaneous play back. The flexible output matrix provides up to eight different outputs that can be organized in a fully dimensional manner.
AutoTheory is available from Plugin Boutique at a 30% discount until March 25th, 2015.
More information: Plugin Boutique / AutoTheory