Plugin Boutique has announced the release of Scaler 1.8, an update to the creative chord composer MIDI plugin for Windows and Mac.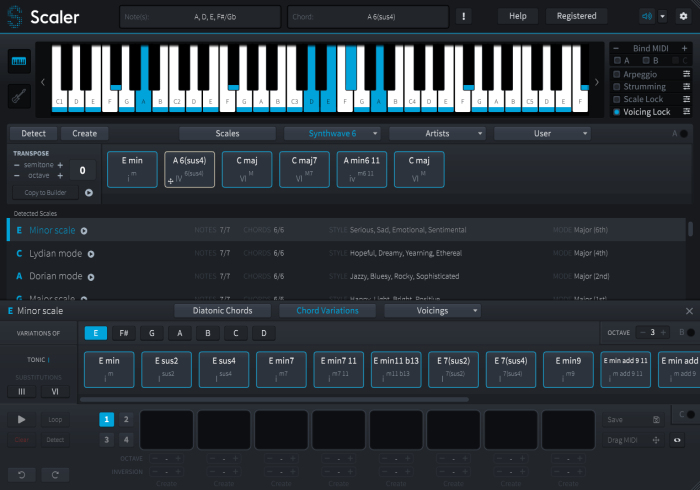 The update comes with new chord sets and sounds, new arpeggio modes, random strumming, voicing lock and more.
Scaler is a unique and inspirational MIDI effect that makes finding chords and progressions intuitive and fun! With note detection, scale selection and chord suggestions, Scaler is a comprehensive but easy-to-use toolbox that will help anyone make better music.
Changes in Scaler v1.8
40 New Chord Sets: R&B, Synthwave & New Artists Chord Sets.
3 New Synth Sounds: Dusty Nostalgia, HeavyHitter & SqSaw.
3 New Pads Sounds: DreamOn, SteelyEssence & WidePad.
5 New Arpeggio modes: Up/Down Repeat, Down/Up, Down/Up Repeat, Doubled Up, Doubled Down.
"Random" strumming mode: Randomly switch between strumming up and down.
Copy/Paste Voicing: Extract the voicing of any chord and apply it onto another chord to match the number of voices and octave at which it will playback.
Voicing Lock: Preview any chord using one of 2 modes:

Dynamic Grouping: Play chords within the same area of the keyboard to maximise compatibility by automatically choosing voices and inversions.
Extracted Voicing: Preview any chord in Scaler with the last voicing you extracted.

Bug fixes and performance improvements.
Scaler is available for purchase for £39.95 GBP / $49 USD. It comes in VST, AU and AAX plugin formats.
More information: Plugin Boutique