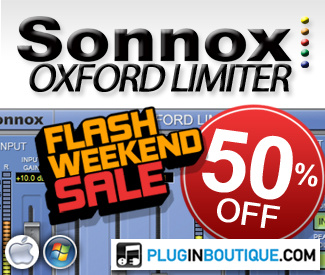 Plugin Boutique has launched a Flash Weekend Sale on the Oxford Limiter, offering the limiter effect plug-in from Sonnox at a 50% discount.
The Oxford Limiter has been developed from decades of professional audio experience to provide a very high degree of quality and facility in programme loudness control and limiting functions.

By employing highly accurate logarithmic side chain processing, along with innovative adaptive timing functionality using look ahead signal acquisition, the limiter provides exemplary performance, whether one is seeking general transparent level control, programme loudness maximisation or heavily applied artistic sound effects.
The Oxford Limiter plug-in for Windows and Mac is available from Plugin Boutique at a 50% discount until March 9th, 2015.
More information: Plugin Boutique / Oxford Limiter