Plugin Boutique has released an update to the Scaler 2 inspirational and powerful music theory workstation that gives you access to a world of new ideas, expressions and melodies.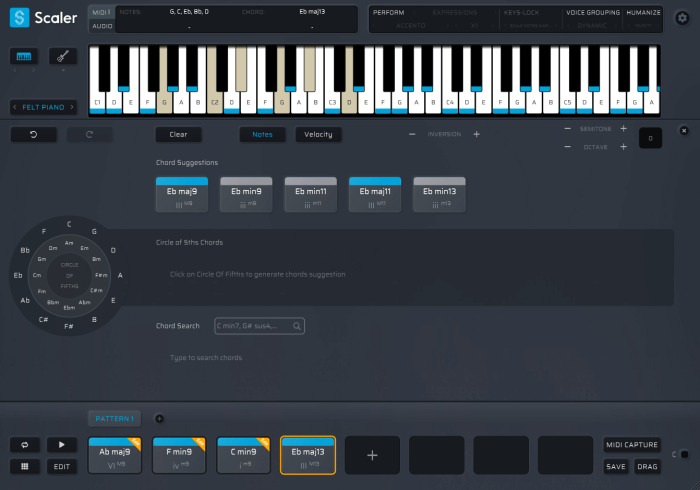 Version 2.1 of Scaler includes over 100 new Performances, Phrases and Rhythms in triplet feel and 3/4, 5/4, 6/8 and 12/8 time signatures. It comes with an all new 'Chord Edit Mode' which allows you to create or edit chords including velocities. The audio detection has also improved significantly plus there are lots of new improvements and features.
With powerful detection of MIDI and audio, Scaler 2 can determine what key and scale you're in and suggest chords that match your music. The plugin helps you discover the perfect melody with performance expressions, and can even suggest ways to change from one key to another.
Changes in Scaler v2.1
New Chord Editor.
Control individual notes and velocities in each chord.
Use the circle of fifths to easily create chord progressions.
Search for any chord in Scaler.
More than 100 new expressions in triplet feel and across several time signatures.
Add bass/inversion display in chord name.
Audio-Detection.
Improved accuracy of detection.
Reduce the number of duplicate chords in results.
Filter-out unlikely chord types to reduce noise.
Add ability to detect from a file in the source dropdown.
New Modulation Preset – Neo-Riemannian.
Create harmonic transformations from any chord.
Support custom sounds folder location.
Support custom chordsets folder location.
Multi-Select Pattern and Pattern Chaining improvements.
Add ability to apply extracted voicing to a multi-selection of chords.
Ability to export chord names to MIDI markers when dragging to DAW.
New Arpeggio Octave Range option.
Add ability to select the output MIDI channel.
Keys-Lock – Chord Mute function now works properly when used with DAW-Sync.
Ability to select and remove multiple notes with lasso in Detect panel.
Add ability to synchronise the selected scale across instances.
Fix "Right-Click -> Select All" in Pad View.
Fix erratic behaviour when deleting from a multi-selection in Pad View.
Fix bind to suggested pathways refresh issue in Modulation.
Fix UI not redrawing correctly after Clear State.
Fix lowercase display for minor chords in Modulation panels.
Fix empty large clip when dragging from MIDI Capture.
Other fixes and overall stability improvements.
Scaler 2 for Windows and Mac (VST/VST3/AU/AAX) is available for purchase for $59 USD. Current users can update to version 2.1 for free.
More information: Plugin Boutique