PlugInGuru has released an update to the Unify powerful and flexible VST host plugin. Version 1.2 adds new FX, Wavesequencing, Vocoding and more to PlugInGuru's flagship virtual instrument.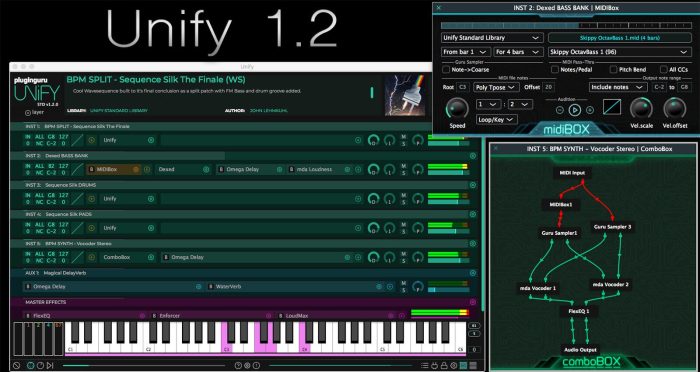 Unify version 1.2 adds ComboBox, a new Multi-Effect PlugIn along with updates to many plugins previously included in Unify, offering its users the ability to create sounds with Wavesequencing, Vocoding and more. In addition, ResonantDSP.com's Swanky Amp Guitar Amp Simulator effect has been included.
John Lehmkuhl says:
"Unify is a Multi-Effect host and software instrument that ships with 537 patches and can integrate all of your MIDI Effects, Instruments and Audio Effects in a very easy to use environment.

By adding ComboBox, Vocoding and complex MIDI sequence abilities are now available. By updating MIDIBox and PolyBox, we're now able to explore rhythmic Wavesequencing in a totally new way where any of your plugins and audio effects can be used for making Wavesequence Patches. Also, the timing of the Wavesequence playback is controlled by a MIDI File that our customers can create.

This flexibility has never been available for making rhythmic Wavesequencing and we can't wait to hear where our customers go with this ability!"
Changes in Unify v1.2
32 New Factory Patches including Vocoder, Wavesequencing and Distorted acoustic and Rock Guitar patches are now included. 537 Patches in total.
ComboBox MultiEffect.
ResonantDSP Swanky Amp Effect.
Audio File Player PlugIn (can stream from HD).
Sample Delay effect.
PolyBox updated – Polyphonic playback per timing event (Wavesequencing).
MIDIBox updated – Polyphonic Transpose + more.
MIDI Filter updated – extended parameters now included.
MDA plug-ins (DX10, JX10 and Vocoder) updated.
Faster patch-database rebuilds.
Faster patch loading with third-party plug-ins.
Hit "F" key as shortcut to toggle favorite ("heart") for current patch.
Plug-in Latency Compensation.
Changes to patch Save dialog.
32 Macro knobs, 32 automation parameters (was 8).
New menu options for Macro Knobs and Parameters.
In-place layer note-range setting.
Option to suppress MIDI-in to Audio effects.
Unify is available from PlugInGuru and PluginFox, priced $79 USD.
Version 1.2 is a free upgrade to all registered owners of Unify.