Plugmon has launched Quick EDM, a soundset for the Zebra synthesizer instrument by u-he.
"Quick EDM" is a really basic, standard EDM sound set. All the patches are practical, and are neatly categorized.

The detailed categorization enables you to look for the sounds without annoyance.
Quick EDM features
357 (+54) patches in total (*alt. cutoff … Patches whose settings are all the same except Cutoff).
Includes 9 Arps, 31 Decay Basses, 54 Hard Basses (+3 alt. cutoff), 13 Soft Basses, 28 Wobble Basses, 25 Decay Leads, 44 Hard Leads, 14 Soft Leads, 34 Hard Pads (+18 alt.), 31 Soft Pads (+3 alt.), 19 Hard Plucks (+20 alt.), 39 Soft Plucks (+10 alt.), 7 Percussions, 11 SFXs.
The soundset also includes the Pocket Modular Skin, a completely redesigned, easy to use, exciting & creative UI.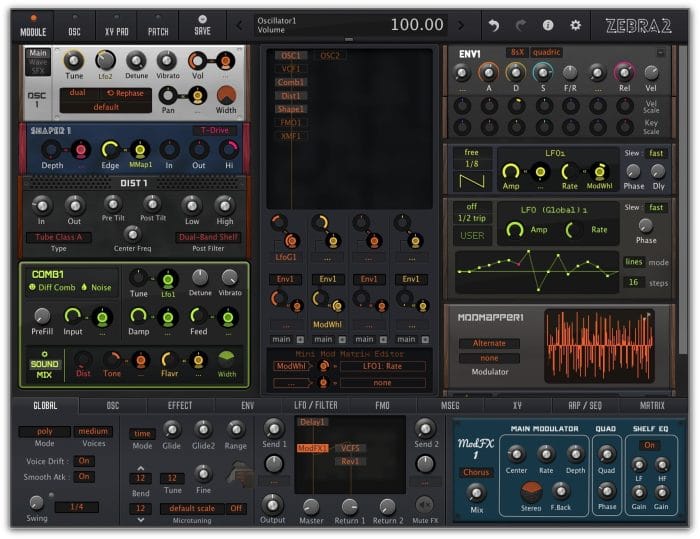 Pocket Modular Skin features
Ready for Retina Display.
Taller than original (+40px).
Impressive color distinction.
EVERY module has its own design.
2 different styles: Vintage or Modern.
Logically reordered, easy to see.
Big OSC editing pane.
Mini Mod Matrix.
Direct XY access in XY Tab.
The soundset (incl. PokeMod skin) is available for purchase for $14.99 USD. A demo of the skin is available for download.
Contents will be updated and some new bonuses will be added when more as more people get the pack. This includes filter-dependent designs, extended skin & Tyrell N6 skins, a Pocket Techno soundset, and another innovative skin.
More information: Plugmon