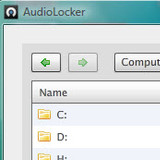 PowerFX has announced the release of AudioLocker, an application which lets you backup and organize your sound libraries in Soundation Studio.
AudioLocker is a desktop application that allows you to store your files in your own account on the "Soundation cloud", and import your own sounds into Soundation Studio. AudioLocker is a simple drag-and-drop program, easily allowing uploads, downloads, delete, folder creation and integration with Soundation Studio. AudioLocker also receives and stores any purchases made from the Soundation Sound Shop, so those sounds are always available and always backed up.

"Many of our customers who have purchased sounds from us request another copy because their hard disk crashed" says Bil Bryant, CEO of PowerFX. "With AudioLocker, all your purchases from the Soundation Sound Shop are automatically stored in your account and always available from your desktop or from Soundation Studio."
AudioLocker pricing
Intro, a 100MB account ($19 a year)
Basic 2 GB account ($49 a year/ 4.99 a month)
Power User 5 GB account ($99 a year/9.99 a month) which includes 20 sound sets (over 400 additional loops) preloaded in your AudioLocker.
More information: PowerFX