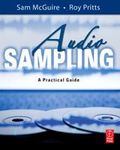 Practical Sampling has released some free EXS24 sampled instruments in support of Audio Sampling, a book published by Focal Press.
These instrumets were submitted as student projects for a sampling class offered at the University of Colorado's Denver campus. More will be added in the next week or so. Enjoy!
Instruments currently available
Toy Piano
Toy Accordion
Simple Guitar
Bilhorn Organ
You can download these instruments free of charge here. More instruments may be posted in the future.