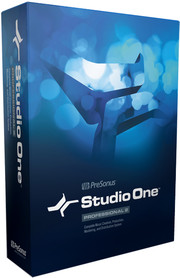 PreSonus has announced Studio One 2, a music production software for Windows and Mac.
Just two years ago, Studio One changed the DAW world with unprecedented ease of use and blazing fast workflow. Studio One 2 takes things to the next level by vastly expanding capability without increasing complexity.
Changes in Studio One 2
Integrated Melodyne Pitch Correction

– Celemony's Melodyne is the most sought-after pitch-correction solution in the market, and it has been the model for proprietary solutions in several DAWs. Studio One 2 seamlessly integrates Melodyne so tightly that, for practical purposes, Melodyne is simply a part of Studio One.? Learn more

Transient Detection, Editing, and Groove Extraction

– Sure, you can do transient detection and editing in other DAWs—but it's slow, and you often have to make a lot of decisions along the way. In Studio One, you can quantize multitrack drums in two steps: group the tracks, then quantize. Studio One does the analysis and phase-coherent quantization for you—with great-sounding results! Want to quantize audio to other existing audio? Drag-and-drop audio into the Groove panel, then quantize. Groove extraction is as simple as drag-and-drop; extract a groove from any audio and apply it to any other audio in seconds!

Multitrack Comping Done Right

– Single and multitrack comping are quick and easy in Studio One—and faster than with most DAWs! No tool-switching is needed, and crossfading between takes is automated, although you can edit the fades. Auditioning takes is as simple as holding Alt and clicking on a take—no more manually soloing entire lanes, as in other DAWs.

Stay Organized

– Keeping everything organized can be critical to an efficient workflow, which is a breeze with the new Folder Tracks and Track List.

Enhanced Mastering with Studio One Professional

– No other DAW offers a truly integrated mastering suite comparable to the Project page in Studio One Professional. Mastering an album is much more than sequencing and level-matching. Studio One Professional provides all of the necessary tools for professional production, including a phase meter and spectrum and peak/RMS level meters with K-System options. To all of this, Studio One Professional 2 adds DDP Export, PQ editing, higher-quality sample-rate conversion, and other professional features.

Much more

– details here.
Studio One 2 is expected to ship November, 2011, and will be available to purchase in three versions:
Studio One Artist ($99 USD) delivers all of the core audio and MIDI recording and editing features, plus 26 32-bit effects plug-ins and 4 virtual instruments, and there is no limit on track count and plug-in instantiations.
Studio One Producer ($199 USD) includes everything in Studio One Artist and adds support for ReWire and AU/VST plug-ins, MP3 import and export, and additional third-party content.
Studio One Professional ($399 USD) has everything in Studio One Artist and Producer and adds the Project page, an integrated mastering solution; fully licensed Melodyne Essential pitch correction; SoundCloud support; Red Book CD burning; video playback and sync; and five more Native Effects plug-ins.
More information: PreSonus / Studio One