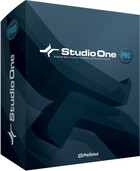 PreSonus has announced it is now shipping Studio One Pro and Studio One Artist, music-creation and production applications for Windows and Mac.
Fresh code, an extremely intuitive user interface, a versatile browser, extensive use of drag-and-drop, no-brainer MIDI mapping, auto-configuration with PreSonus hardware, superb audio, unlimited tracks, and plug-ins per track, support for the latest standards and technologies, and a convenient Start page that puts the whole project one click away are just a few of the compelling features that make Studio One Pro and Studio One Artist the next generation in audio software.

Studio One Pro is based on a cutting-edge audio engine that delivers unparalleled sound and automatically switches between 32-bit and 64-bit floating-point processing on the fly (even with a 32-bit OS), ensuring the highest quality audio at all times. Studio One Artist employs the same audio engine but only operates in 32-bit mode. Both versions are compatible with any ASIO-, Windows Audio-, or CoreAudio-compliant audio interface, including, of course, the entire line of PreSonus interfaces.
Studio One Pro and Artist are available now at all authorized PreSonus dealers for a U.S. street price of $399 USD and $199 USD respectively. Studio One Artist is bundled free with all PreSonus interfaces, including the StudioLive 16.4.2 digital mixer.
Customers who bought a PreSonus interface after January 1, 2009, and registered their unit will receive a free copy of Studio One Artist and can upgrade to Studio One Pro for $199 USD. Those who bought their PreSonus interfaces before January 1, 2009, can buy Studio One Artist for $99 USD, with the same upgrade offer to Studio One Pro.
More information: PreSonus / Studio One