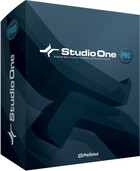 PreSonus has released version 1.5 of Studio One, a music creation and production application for Windows and Mac.
Key additions include support for video playback and sync for composing to picture, major enhancements to the Browser's drag-and-drop capabilities, the ability to draw your own automation waveforms, automation points that are locked to events, a new key-command editor, changing tempos within a event without slicing the event into separate events, and support for song and album art. A first-of-its-kind, built-in SoundCloud client enables you to upload audio files from Studio One directly to the Web. The MIDi features have been improved, including a new MIDI file player in the Browser. We've enhanced the Native Effects plug-ins and added new ones. And that's by no means all that is in this impressive update.
Changes in Studio One v1.5
Integrated Video Playback via Quicktime.
SoundCloud integration for instant uploading of songs to web sites, FaceBook, etc. without exiting Studio One.
Key Command Editor – Easily create custom key command maps.
64-bit Vista/7 and Snow Leopard operation.
Improved Automation Editing with Draw Figures (Line, Parabola, Square, Triangle, Saw, Sine) and manipulate with unique Transform tool.
Drag to Browser functionality – The Browser is now a 'two-way street', drag inserts to store presets/fx chains, drag audio events to bounce files to a location, drag instrument parts to bounce MIDI files to a location.
New Plug-ins, Content, and existing Effect and Instrument Improvements:

Impact now has multiple velocity layers.
Presence now has Multi-FX Section.
New Scope and Level Meter plug-ins.
Pipeline has a unique integrated scope to calibrate signal path latency.
Automatable Bypass for insert effects.
Tons of new presets for built-in effects.
Over 2GB new content for all users.

Export Stems – Easily bounce any combination of Audio/Instrument Tracks, Buses, or FX channels.
Editing Improvements across the board such as unlimited Undo History (even after you've saved), Event position constrain when dragging between tracks, New Split at Cursor command, new musical functions, etc.
Support for Apple Loops (CAF files, OSX only) & REX file.
Note: Mac OS X 10.4.11 or prior is no longer supported with version 1.5 (necessity to move forward with OSX 10.6 64-bit support).
PreSonus has also announced three new content expansions: Studio One Expansion (hundreds of new presets and fx chains), Studio One Piano (an improved piano for Presence), and Synth Session (150+ sampled synth sounds for Presence).
More information: PreSonus / Studio One