Primal Audio has released version 1.1 of FM4, a 4-operator synthesizer app for iOS.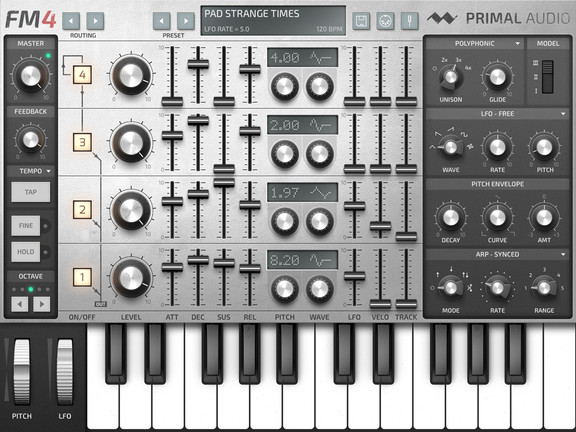 Modelled on the popular DX series from the 1980s FM4 provides the same gritty sound, with a modern interface, and without being bound by the limitations of the original units.

Every aspect of the hardware — from envelope curves to sine-table sizes and quantisation errors to digital-to-analogue converters — has been meticulously analysed, in order to recreate the raw and dirty sound of the original units.
Changes in FM4 v1.1
Audiobus support.
iOS 7.0.x crash has been fixed.
Performance boost: the UI responsiveness has been drastically improved.
App-size has been reduced with more than 60%.
The manual is up.
Added a tempo popover with manual control of the tempo.
Added a waveform popover with an overview of waveforms.
Minor bug fixes.
FM4 is available for purchase for $9.99 USD.
A free FM4 Lite version is now also available. It is fully functional except for the following limitations:
MIDI is disabled.
Inter-app Audio is disabled.
Audiobus is disabled.
Saving is disabled.
Only 40 factory presets are included.
More information: Primal Audio