Producertech has launched Glitch Hop Beats & Bass with Maschine, a new tutorial video by Defazed aka FracTroniX.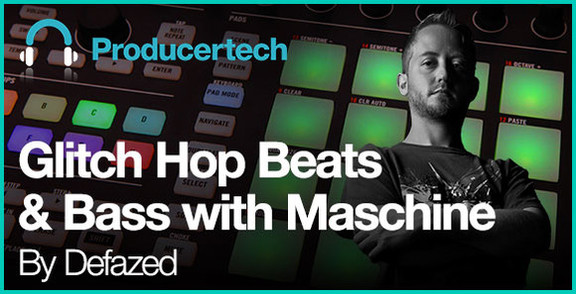 With a solid background in the heavier, darker side of production, having numerous releases under Defazed and Metaphra in genres like Neurofunk and Drum and Bass, he's found new inspiration of late in Glitch Hop.

After the creation of his six and half hour set of tutorials on producing Dubstep in Logic Pro, he started to experiment with NI's awesome Groove Production Studio, Maschine. The powerful software/hardware combo proved the perfect instrument for unleashing the heavy beats, twisted basslines, glitchy accompaniment and huge leads that produce the distinctive and highly appealing style.

In this first part, he guides you through the steps required to create a fat drum break and rude bassline to go with it, with bass sounds created from scratch with Massive and resampled in Maschine, then programmed into various patterns and mixed with the beats. The lessons come with the Maschine project from the course, as well as a bonus pack of samples from Loopmasters.
The video course is available for £13.95 GBP.
More information: Producertech / Glitch Hop Beats & Bass