Producertech has launched a new 13-module tutorial course on the Hybrid 3 virtual synthesizer by AIR Music Technology.
The Producer's Guide to Hybrid 3 course by Producertech senior tutor Rob Jones takes you on a sound design journey through every nook and cranny of the software, to have you editing and creating patches with ease in no time.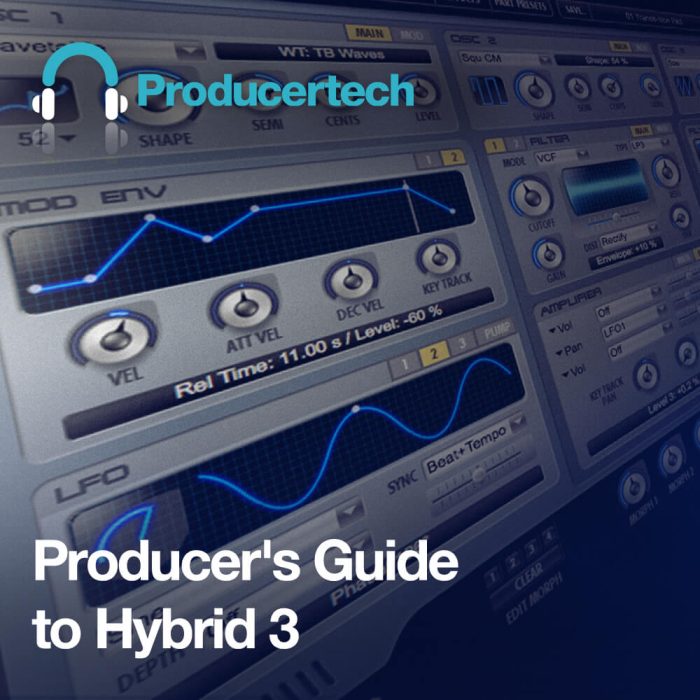 To keep things interesting and prevent tedious walkthroughs, every lesson on Rob's course is an example of patch design, kicking off right from the offset with a demonstration of how to make a detuned saw preset, with oscillators in their default states and a minimal amount of envelope adjustment. Increasing gradually in complexity, Rob works through many of the main categories of a patch, showing the techniques involved with making basses, leads, pads, FX, arps and more.

Despite the plugin interface's relatively simple appearance, every area of the instrument has a lot of flexibility, with oscillators providing sync, pulse width modulation and wavetable synthesis with just a few clicks. Dual filtering and saturation also offer a massive amount of sound manipulation right from the main window, with other unique features including a pump LFO and filter FM facility, all of which is explored thoroughly on the course.

After all of the main areas of the plugin have been sufficiently explained, Rob wraps things up with a series of quick tips, giving some additional 1-2 minute sound design tricks, to help Hybrid users achieve instant results.
Producer's Guide to Hybrid 3 features
Well over 2 hours of streamed tutorials.
Access 24/7/365.
32 individual lessons.
20 bonus Hybrid presets.
Producer's Guide to Hybrid 3 is on sale for only £2.95 GBP/$3 USD until July 9th, 2018.
More information: Producertech