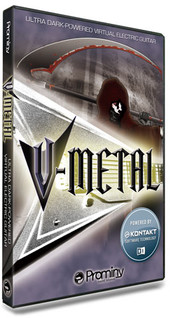 Prominy has released V-Metal, an ultra real-sounding, dark-powered virtual electric guitar.
The true METAL sound of ESP® Alexi Blacky with EMG®humbucker pickup includes over 19GB*, approx. 26,000 samples. V-METAL enables you to compose and create very realistic Metal guitar tracks that imitate real guitar playing!
V-Metal features
Incredible real-time playability – V-METAL SPM (Super Performance Multi).
Fretboard Monitor.
Auto Stroke Detection.
Cricket.
Feedback.
Realtime Legato Slide / Hammer-on / Pull-off / Trill / Tremolo.
Real sampled chords.
Double-tracking.
Assignable Key Switch.
The lower note samples (low C – low D#) are included.
Direct signal from the guitar (Amp simulator is not included in the product).
V-Metal uses the Lossless Sample Compression format 'NCW' with real-time encoding. The data size after the installation is approx. 10.4 GB that equals 19 GB of .wav files.
V-Metal for Windows and Mac (powered by Kontakt Player 5) is available to purchase for the introductory price of $199 USD (33% off regular price of $299 USD) until December 29th, 2011. Registered Prominy can purchase V-Metal for $179 USD.