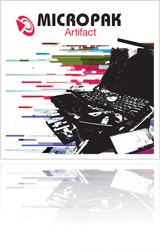 Puremagnetik has announced the release of Artifact, a Micropak created from digital anomalies and computer malfunctions.
Artifact comes packed with things you would normally want to avoid in the studio: digital aliasing, clock glitches, control 'voltage' waveshaping, sysex errors and mis-quantized samples.

The sound designers at Puremagnetik have harnessed these anomalies in a controlled environment and reprogrammed them in a more musical context for Ableton Live 8, Kontakt 3 and Logic 8/9.

Artifact is organized into 6 playable kits complete with macro controls for Ableton Live and a custom Kontakt GUI. In addition, Artifact includes a generous collection of looped MIDI clips (the Kontakt version uses Apple Loops).
Artifact features
6 kits packed with digital malfunctions
Multi-sampled library with advanced DAW integration
A collection of expertly programmed clips
High quality 24 bit 96khz audio samples
Custom Ableton Racks, Kontakt KSP GUI and Logic Channel Strips
Artifact is available to Puremagnetik subscribers for Ableton Live 8.1.3, Kontakt 3.5 or Logic 8 (subscriptions start at $5.75/month).
More information: Puremagnetik / Artifact