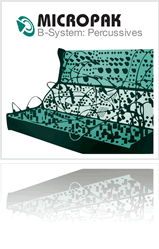 Puremagnetik has released B-System: Percussives, a unique sonic adventure through 10 electronic drum kits and 40 rhythmic loops recorded from an original Buchla 200e modular synthesizer.
The Buchla 200e is a modular analog synthesizer designed by electronic music pioneer Don Buchla and built by Buchla and Associates.

200e synthesizer platform includes several modules that roughly correspond to the canonical analog synthesizer's ones including an envelope generator, voltage controlled oscillators and filters, ring modulator and LFO.

The sound designers at Puremagnetik had a rare opportunity to sample this magic beast and have now released the first in a series of B-System Micropaks that focus mainly on the synthesizer's percussion generating capabilities.
B-System: Percussives features
Ableton Live version

10 full 2 octave kits (over 650 individual samples), programmed with advanced Macro integration and effects mapping.
Utilizing multi-velocity zones for the ultimate in expression and playability each kit is sonically charged for instant electronic gratification.
40 Live Clips of preprogrammed material, each one expertly tailored with effects racks and advanced Macro controls.

Kontakt version

10 menus of over 20 multisampled percussion sounds.
Menu of looped phrases.
Each instrument has been uniquely programmed with a custom Kontakt KSP GUI for instant tweakability.

Logic version

Collection of 10 electronic kits.
Multiple pre-programmed channel strips.
40 advanced SIAL loops that integrate flawlessly with EXS24.
B-System: Percussives is available now for Puremagnetik subscribers (subscriptions starting at $5.75 per month).
More information: Puremagnetik