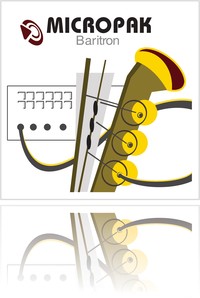 Puremagnetik has released Baritron, a saxophone sound library packed into a collection of 11 multisampled instruments in three eclectic categories.
Four instruments (All, Soft, Loud, Staccato) capture the classic acoustic tones of the baritone saxophone. The "All" instrument combines everything as multiple layers of velocity articulations. From quiet reed slaps to wailing growls and release clicks, Baritron has fully captured all of these saxophone nuances. Two FX instruments (Mash and Slap) are focused on recreating the pseudo-random keymashing and the percussive tongue slaps that the saxophone does so well.

In addition, Puremagnetik has created 5 experimental instruments that push the sonic barrier. Tron-Doom was made with a doubled talkbox process layered on a sub octave pitch shifter. Tron-Drillex was the result of vocoding the saxophone with the sound of an electric drill articulating a stratocaster. Tron-Lazer has 3 velocity layers of sax vocoded with a series of descending pitch slides. Tron-Maoff convolves the sound of a bowed string into the sax, combined with a enveloped filter. And finally… Tron-Vowelz is vocoded with a human voice to create 4 different tones, blendable and interchangeable.
Baritron features
11 multi-sampled instruments with expressive articulations.
Over 500 high quality samples.
Advanced Ableton Live Racks with customized Macro Controls.
Kontakt KSP easy edit GUI.
Logic EXS version includes Channel Strip Settings with Logic effects.
EXS Universal file format for easy importing into any audio host.
Baritron for Ableton Live, Kontakt, Logic (and any host that can import EXS24 format) is now available to Puremagnetik subscribers.
More information: Puremagnetik / Baritron