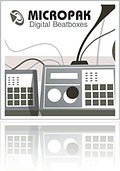 Puremagnetik has released Digital Beatboxes, a collection of four famous old-school digital drum machines.
Digital Beatboxes includes classic digital machines that helped define an era in hip-hop, rock and electronica. Now you can tap into these sounds and experience them in a modern production environment.
This Micropak includes the following drum machine replications:
Korg DDD-1 — A programmable drum machine from 1986. Includes 18 drum sounds with a famous 12-bit crunch.
Alesis HR-16 — One of Alesis's first drum machines manufactured in 1987. Includes over 40 unique drum and percussion sounds.
Kawai R50 — Legendary 12-bit sound from 1988! Includes a selection of over 20 dirty drum and percussion sounds.
Sound — A very rare Soviet era drum machine manufactured by Zhitomir electronic factory in 1989. Includes sampled percussion sounds with a tightly compressed flavor.
The Ableton Live version of Digital Beatboxes comes with over 60 drum loops and 18 individually customized drum kits. Each loop comes in Live Clip format facilitating maximum flexibility for beat production. All kits include customized Macros for easy editing along with unprocessed "classic" versions of each machine. Digital Beatboxes for Kontakt and Logic comes with over 60 processed SIAL Apple Loops and a selection of customized kits. Drum programmers can also take advantage of the consolidated menu option for individualized sounds.
Digital Beatboxes is available with any Puremagnetik subscription (starting at $5.75 per month).
Visit Puremagetik for more information.