Puremagnetik has announced the release of two free audio effect plugins inspired by tape, microsound and experimental music.
Expanse is a texture generator that can be spectrally blurred, pitched, and filtered.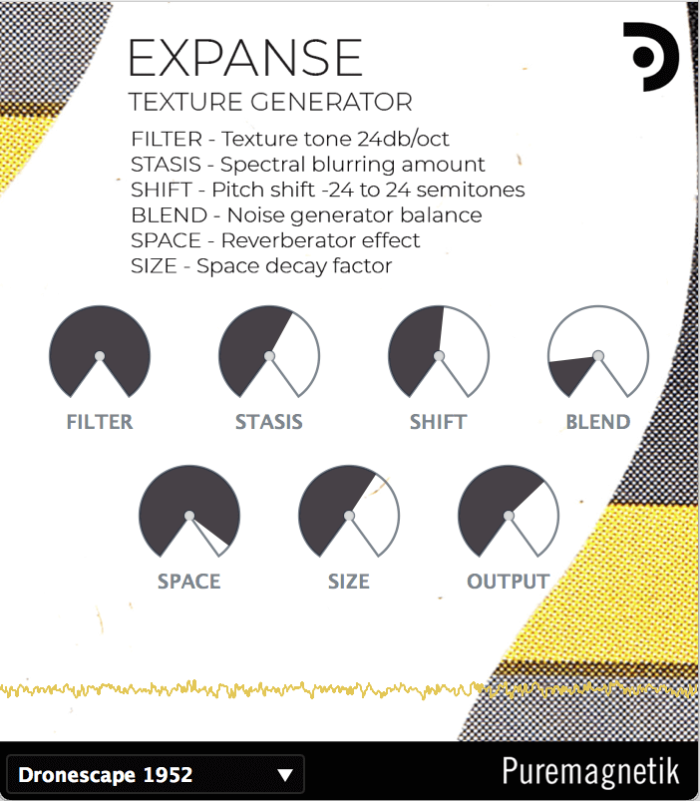 Expanse creates filtered noise and layers a pitch shifted replica on top of itself. The processed layer undergoes spectral blurring and freezing to create interweaving layers of sound.
Inspired by Larum's Into a Bright Land, Expanse is a noise and drone generator that can be spectrally blurred, pitched, and filtered. It is a simple yet versatile tool that can produce sweeping backdrops, resonating low drones and many other textural canvases.
Drifmaker parses incoming audio to a user defined buffer. It then lifts segments from the recorded material, granularly time-stretches segments, all the while adding analog deterioration effects to the signal.
Depending on what you feed it, Driftmaker is capable of creating everything from glitchy echoes to long, drawn-out ambiences.
Driftmaker is a delay disintegration device that parses incoming audio, recalls certain parts and adds analog deterioration to the signal. It was designed to encapsulate the character of BlankFor.ms's debut on Puremagnetik – Works for Tape and Piano. All presets were developed by BlankFor.ms.
The plugins are available for download in 64-bit VST and AU formats.
More information: Puremagnetik