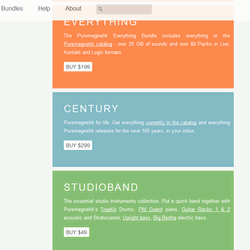 Puremagnetik has introduced three new bundles in Ableton Live, Kontakt and Logic formats.
Studioband

An essential studio instruments collection allows you to put a quick band together with Puremagnetik's most popular Packs. It includes:

TrapKit – A vintage 1960's Ludwig drum set recorded in a large reflective room with a vast array of microphones.
PM Grand – A multi-sampled Yamaha Conservatory Grand Piano that includes a library of advanced instruments and looped clips in various styles.
Guitar Racks 1 & 2 – Contains an assortment of expertly captured acoustic guitar chord menus, articulations and looped phrases.
Upright – A beautifully recorded double bass instrument that comes packed with a multi-sample palette of articulations including plucked and traditional bow.
Big Bertha – A custom built 6-string electric bass that has a classic, deep and funky tone.

Analog Heroes

The legendary analog synths of the 70s and 80s for Live, Kontakt and Logic. Analog Heroes contains 7 packs and 3 GB of sounds from the following products:

Juniper 1 & 2 – A collection of expertly crafted instruments based on Roland's legendary Jupiter series analog synthesizers.
TeeBee – The ultimate sampled Roland TB-303 – perfect for heavy acid bass lines, squelchy resonant leads and other thick analog sounds.
Phonik – The celebrated Roland Paraphonic-505 right to your desktop. It includes the famous Orchestral and Synth sections of this legendary machine.
Synth 700 – A complete Korg 700, expertly recorded and programmed with all of the details and nuances of the original.
String Machines – Classic 1970's string programs from the Roland VP-330, Roland RS-09, ARP Solina String Ensemble and Crumar Orchestrator.
SixVoice- Includes over 30 multisample patches from the legendary Korg PolySix synthesizer.

Century Bundle

Puremagnetik's Century Bundle includes everything currently in the Puremagnetik catalog (a $1200 value) and everything Puremagnetik releases for the next 100 years, straight to your inbox.
Studioband is available for $49 USD, Analog Heroes costs $79 USD, and the Century Bundle is $299 USD.
More information: Puremagnetik