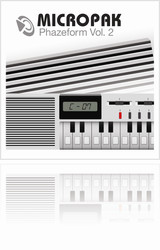 Puremagnetik has announced the release of Phazeform Volume 2, the second installment of the Phazeform series which includes more CZ-1 phase distortion patches, the complete tonal bank from the original SK-1 and a ton of percussion elements.
The mothership of Casio synthesis, the CZ-1 was a remarkable piece of technology in its day, emulated by other leading synthesizer manufacturers. Casio's CZ line of Phase Distortion synthesizers are incredibly unique devices that used digital synthesis without a filter as opposed to traditional analog subtractive synthesis with a filter. The CZ line used phase distortion to somewhat simulate an analog filter, it had in total eight different waveforms: as well as the standard sawtooth, square, and pulse waveforms, it had a special double sine waveform, a half-sine waveform, and three waveforms with simulated filter resonance: resonant sawtooth, triangle, and trapezoidal waveforms.

The Casio SK-1 is a classic low fidelity consumer keyboard from 1985 and arguably the first toy sampler. Puremagnetik captured all of the uniquely kitsch and useful factory tones and processed voices with the gritty 9.83 khz / 8 bit sampler. You can bask in the raw nostalgic tones of this time machine and make use of these modernized instruments by using native effects in Ableton, Kontakt and Logic.
Phazeform Volume 2 features
Over 20 Phase Distortion sounds.
Multi-sampled CZ library with advanced DAW integration.
A collection of 30 expertly programmed clips.
3 sets of percussion menus.
Custom Ableton Racks, Kontakt KSP GUI and Logic Channel Strips.
Phazeform Volume 2 is now available for Puremagnetik subscribers. Subscriptions start at $5.75 USD/Month.
More information: Puremagnetik / Phazeform Volume 2