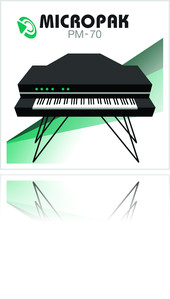 Puremagnetik has announced the release of PM-70, a new sound pack of 8 multi-sampled instruments emulating the Yamaha CP70 Electric Grand Piano.
At the core, the CP-70 is a piano with strings and hammers with a pickup system for electric amplification. Originally released in the 1970's as a "portable grand piano" for use on rock tours, the sound was made famous by Genesis, Kansas, U2 and more recently Keane. The CP-70 can be compared to that of a Rhodes or Wurlitzer electric piano, but due to the use of strings instead of tines, it sounds much more like a traditional piano. The metallic strings amplified by electric pickups further characterize the CP70 as its own class of piano, giving it a guitar-like sound at times.

Puremagnetik worked with The Distillery in New York City to capture the pickup details using a prototype germanium-based DI from Sage Electronics. The twangy saloon like piano tone was recorded with a stereo pair of matched 414's through a Focusrite ISA 828.

Additionally, Puremagnetik has programmed some patches to emulate the CP-70 tremolo circuit and tube amplifier. As evidenced in some of the more exploratory patches, PM-70 also explores the piano as a spectral source to create new fictional synthesizer tones.
PM-70 features features
High Quality 24 bit MultiChannel recordings.
Multiple Velocity Layers for Realistic Playability.
Emulation of the Original Tremolo Circuit.
Integrated Ableton Live Effects Racks with Advanced Macro Mapping.
Custom Kontakt KSP GUI for Easy Editing.
Requires Ableton Live 8.2.1, Kontakt 3.5 or Logic 8.
PM-70 is now available for Ableton Live 8, Kontakt 3/4 and Logic 8/9.
More information: Puremagnetik / PM-70