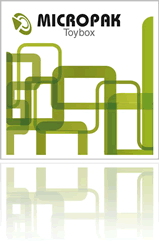 Puremagnetik has released Toybox, an inspiring collection of sounds captured from toys, gadgets and music education devices.
From squeaky plastic instruments to mini synthesizers and toy pianos, Toybox explodes with a variety of colorful sounds, ready to play in your favorite sampler or DAW.
Toybox features
Lapharp – An organic 12 string plucked instrument.
Synthjam – 6 instruments and an efx menu from toy synthesizers.
Stylophone – Includes the "classic" Stylophone® sound as well as 2 new models.
Junior Piano – A quirky toy piano with multi-velocity sensitivity and mechanical nuances.
Toy Accordion – A small plastic accordion with a fun squeaky sound.
Jamboree – Toy vibraphone with both "finger" and "plastic" variations.
Melodica & Recorder – Legendary educational wind instruments.
Astroblaster – A menu of laser gun sound effects.
Drumrock – A lo-fi kit sourced from a toy drum synthesizer.
The Ableton Live version of Toybox comes with 14 multisampled instruments including 2 effect menus and a drum kit rack. Each sound has been carefully tailored with extensive Macro controls for easy editing and tweaking.
Toybox for Kontakt comes complete with a customized KSP driven GUI for instant editing and effects processing. The Logic version of Toybox includes 18 unique channel strip configurations for quick loading sonic exploration.
Visit Puremagnetik for more information and audio demos.