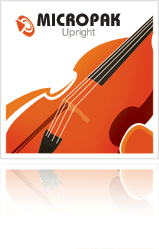 Puremagnetik has released Upright, a double bass sample library for Kontakt, Logic & Live.
A beautifully recorded double bass instrument, Upright comes packed with a multi-sample palette of articulations including plucked and traditional bow. In addition, Upright includes a number of unique synthetically enhanced instruments for electronic music or sound design applications.

Recorded with meticulous precision, Upright has been programmed for advanced multi-mic flexibility. Users can blend room modes and microphone gain to custom tailor the sound of the instrument. The Ableton Live version includes masterfully programmed Macros for easy editing, while the Kontakt version loads with a custom KSP script for quick parameter access.

Each version of Upright comes packed with a collection of Live Clips and Apple Loops.
Upright features
A Huge Collection of Double Bass Samples.
Expertly Recorded "Bow" and "Plucked" Articulations.
Multi-Sampled Keymaps and Velocity Expressions
.
Tightly Integrated Ableton Live Racks and Kontakt KSP Interfaces.
A Collection of Live Clips and Apple Loops.
Recording Information

Direct: Built-in Bridge Piezo Direct to Tube DI
Close Mics: Brauner VM1 & Neumann KM 184
Room Mics: XY Stereo Pair of Neumann KM 84s
Upright is available now as a download for Puremagnetik subscribers. Subscriptions start at $5.75 USD.
More information: Puremagnetik / Upright