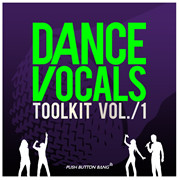 Push Button Bang has released Dance Vocals Toolkit Vol. 1, a collection of vocal samples.
Unlock killer hooks and vocal tweaks with the Dance Vocals Toolkit: over 20 vocalists sliced, diced and processed into a one-of-a-kind, royalty-free library of magic vocal touches for stand-out tracks.

More than 1000 loops and one-shot cuts, stabs and FX: a diverse spread of rhythmic vocal grooves, manipulated vox and otherworldly voices for you to get ultra- creative with.

Loops move from 2 to 16 bars in length, with single, double and group voices represented, all at a standard 128BPM. Many feature several rhythmic and/or FX changes for multiple, flexible uses. Producers can drop them in whole or edit them to create multiple house-style 'micro loops' and textural repetitions; DJs and performers can vary loop points to tweak pulsating vocal grooves on the fly.
Dance Vocals Toolkit Vol. 1 features
1050 samples: 300 loops, 750 vox shots, phrases and FX.
Includes 175 female vox loops, 95 male vox loops, 30 mixed phrase loops, 200 female vox shots, 100 female vox FX, 50 breath noises, 15 DJ FX, 60 dry adlibs, 50 male vox shots, 75 male vox FX, 60 mixed words and phrases, 50 verb vox, 50 yeahs, yahs, and yups, 40 vocoded shots.
Over 20 Contributing Vocalists.
1GB content, 24-bit audio quality.
Ableton Live 8.2+ Pack: 1050 Wav loop and sample clips, 15 Sampler based vox remix racks.
Dance Vocals Toolkit Vol. 1 is available to purchase from Loopmasters for £29.95 GBP.
More information: Loopmasters / Dance Vocals Toolkit Vol. 1