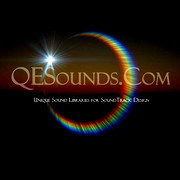 QESounds has released Altered Reality Fx 4, a collection of soundtrack elements.
AR4Fx is the fourth release in the Altered Reality series – featuring 1500 one-shot sounds specifically designed as soundtrack elements – ostensibly in an ethereal to dark texture.

AR4Fx features Version 3 Scripted SoundTools which updates SoundTools to include 50+ additional IRs, Custom GUI, 4 modes of envelope assignment (global, global preset, individual key preset and sequenced key envelope assignments), a virtual layer of assignable 3 position modwheel crossfades, a virtual layer of assignable 3 deep layering with volume and panning control, and the ability to control the stereo image width/pan/channel swap for each key on an individual basis – all this in addition to convolution, global 3 band EQ, Hi/Lo cut filters and global stereo image control.

We've also promoted Virtual Layer Remapping to the Multi level (VLRM) – allowing you to create a virtual layer of up to 128 keys: each assignable to any KS/Note across up to 16 instruments (it works w/ AR1/2/3Fx as well.)
Altered Reality Fx 4 features
Sound sources include waterphone, didgeridoo. metals on dry ice, Coke bottles, water sounds, underwater sounds, voice, bowed metals, pots and pans, chimes, and more.
Organized into 17 instruments/combos – each a cohesive kit for soundscape design. By creating a Multi and using the VLRM MultiScript you can mix and match the sounds from any of the combos (and even AR1/2/3Fx) to create your own virtual combos.
Each sound is assigned it's own group so that the user can tailor each sound to their own needs/tastes individually.
AR4Fx is Kontakt 4 compatible, with Scripted SoundTools as well as Virtual Layer Remapping multi-scripting.
Altered Reality Fx 4 is available to purchase for $99.95 USD (24bit) / $69.95 USD (16bit).
Visit QESounds for more information.