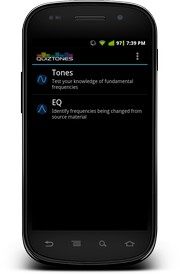 Quiztones founder Dan Comerchero has announced the release of an Android version of QuizTones, the popular ear training app.
Quiztones for Android is a frequency ear training app for amateur and professional audio engineers, producers, and musicians. Previously only available for Mac and iOS, it has helped countless musicians and audio professionals train their ears to instantly and intuitively recognize frequencies. This is useful when mixing, adjusting EQ settings, and identifying/eliminating feedback.

Audio professionals as well as amateur musicians spend a great deal of time analyzing frequencies, whether adjusting them for a good mix in the studio, or trying to get rid of feedback on stage. Ear training with Quiztones can make this a lot faster and easier by training the ear and eliminating trial and error methods of frequency identification such as sweeping.

Ever since Quiztones hit the market, Comerchero has been receiving requests to develop Quiztones for Android. "What can I say, the 'when will Quiztones be available for Android' emails just wore me down", he jokes, and adds, "There were so many Android users asking for Quiztones, I literally had no other choice but to build it." Now, Android users, too, can use the clever quizzes to engage in training exercises from sine waves and pink noise to real-world sounds like frequency-altered drums, acoustic guitar, electric guitar, bass and vocals.
Quiztones features
Sharpen your ears & frequency recognition skills.
Improve your mixing and EQ chops.
Prevent noise and frequency buildup in your mixes & recordings.
Eliminate the need to sweep for frequencies.
Quizzes included in Quiztones Android version 1: Sine Waves, Pink Noise, Piano, Drums, Bass, Electric Guitar, Acoustic Guitar.
The Android version of QuizTones is available on the Google Play Store at an introductory price of $1.99 USD.
More information: QuizTones