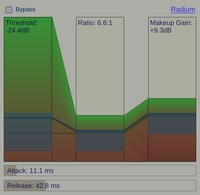 Radium Audio has released the Radium Compressor, a compressor/expander effect plug-in with a unique user interace.
With the Radium Compressor, you spend less time listening and finetuning. The interface quickly makes you find the sound you want.
Radium Compressor features
Top class audio quality.
The DSP code is implemented by Julius O. Smith III. Julius O. Smith III is a professor in Music and EE at Stanford University, and he is one of the legends in audio research. The compressor is based on code Julius has written for Faust.
Simple and intuitive GUI.
Functional and clean graphics.
Optimized CPU usage.
Can also work as expander.
The effect plug-in is currently available for Windows (VST), priced at 20 EUR. Mac and Linux versions are expected soon.
More information: Radium Compressor