Rakit has announced availability of Metal, a new pocket-sized shaped noise percussion synthesizer.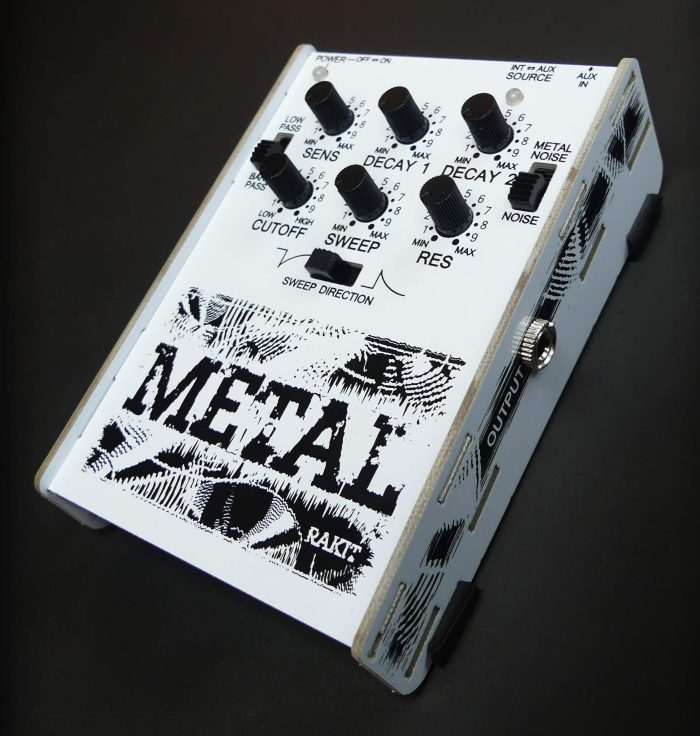 Metal is inspired by metallic noise generators of the past.
Three sound modes are fed through a modified Polivoks filter to deliver razor-edged sounds and lazer-guided oscillations – triggered by hand or external CV.

The Rakit Metal synth has a built-in VCA to shape the contour of the sound, fed through an adjustable sweep function to give rise to twisted shimmers, pitched-up drones, and chunky electro chops. The multi-mode filter has band pass and low pass settings, with controllable filter cutoff and enough Resonance to self-oscillate into oblivion. Ideal for hats, toms, kicks, bleeps, and sweeps!

It comes with a trigger input for live sequencing, CV control over cutoff frequency and an audio input to forge new sounds through its circuitry.
Metal is available in DIY kit form and as a completed unit.
Rakit Metal features
Modes: Metal, White Noise, External Input.
Filter: Modified Polivoks (LP/BP).
Trigger: Built-in Piezo Mic / Gate Input.
CV Control: Filter Cutoff.
Power: 9V Battery / DC Supply.
Metal costs £45 GBP (DIY kit) / £65 GBP (assmebled).
More information: Rakit