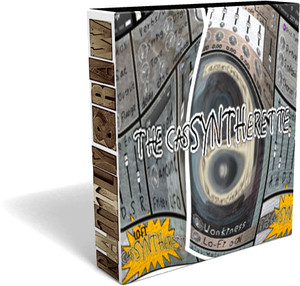 Rattly and Raw has announced the release of The CaSYNTHerette, a virtual instrument library for Native Instruments Kontakt.
TWO synths, one using waveforms from classic synthesisers sampled from a very rare, stable, full range cassette recorder with loads of character and the other using waveforms sampled using the dirty, noisy Cassamplerette recording mechanism.

Whilst the Cassamplerette was looped and single shot recordings of real instruments, the CasSYNTHerette is a fully functional synthesis instrument using waveforms from some classic synth oscillators recorded and looped onto different cassette tape systems.
The CaSYNTHerette features
FOUR cassette tape-based waveform oscillator faders: Square, Triangle, PWM and Soft (a combination wave from a classic synth).
Additional SUB oscillator fader!
Tape cassette noise fader with stereo and tone controls.
Individual waveform tuning via tape speed controls!
Individual waveform pans.
HP/LP Filter + lfo + envelope.
Amplitude envelope.
x2 custom convolution reverbs with tone control. One very rare cranky vintage spring verb and one old spacey hardware digital verb!
Fully controllable delay.
Two state distortion control with 'soften' control.
Saturation control.
LoFi (Bitcrush) control.
Chorus and Flanger controls.
Wonkiness control – magnify the cassette tape wobbliness!
Switchable MONO/POLY.
Loads of PRESETS!
The library is available to purchase for £20 GBP.
More information: Rattly and Raw / The CaSYNTHerette