Rayzoon has announced the release of Jamstix 4 for Windows, a virtual drum instrument. The macOS version will follow in Q1 2018.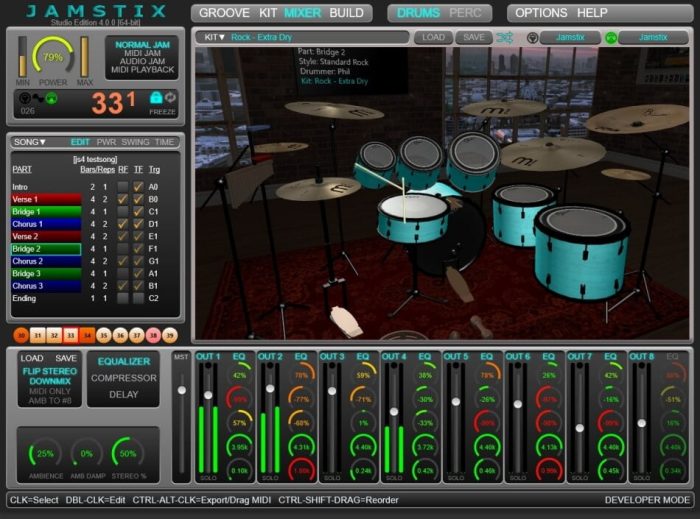 Version 4 is a complete overhaul with a streamlined vector user interface, improved workflow, ready-for-mix drum kits and a real-time 3D drum kit providing a new level of immersion as you work on your songs.
This ground-breaking virtual drummer runs synchronized with your DAW as an instrument plugin and features in-depth real-time modeling of various styles as well as human drummers with their own habits, accents and fill characteristics. Together, they can create thousands and thousands of realistic drum performances, each one editable down to the last hit thanks to the built-in limb-centric bar editor.

This unrivaled drum simulation is complemented by a high-quality sample player with up to 4GB of samples (Studio version) but can also MIDI-drive your favorite drum module with the brain power and arrangement functionality of Jamstix.

Furthermore, Jamstix is the first major drum plugin with a real-time 3D drum kit, including realistically moving drumsticks, cymbals and pedals. It's not a gimmick but visualizes the drum performance as you develop your songs and can even teach you how to play.

A variety of expansion Paks can boost the sound palette and A.I. power to cover all your needs, including hand percussion, euclidean rhythms, linear drumming, breakbeats, jazz and even Flamenco stomps and claps.
Jamstix 4 for Windows (VST/AAX) is on sale at up to 35% off through December 2017, starting at $49 USD for upgrades and $79 USD for new customers. A free scaled-down version is also available.
More information: Rayzoon