Native Instruments has released an update to its Reaktor modular DSP software, introducing a host of powerful new DSP building blocks and macros for builders.
New features include filters (6- and 8-pole butterworth bandpass, and more), effects (such as thru-zero phaser and flanger, asymmetric overdrive, and bit and sample rate reduction), LFO features (including tempo and transport position syncing), and reworked crossover macros. The update also features some minor improvements and fixes.
REAKTOR 6 makes advanced sonic experimentation more accessible than ever.

Primary and Core Macro libraries are refined for ease of use with new categories and intuitive folder structure. Workflows are now more efficient thanks to a modernized interface, improved structure editing, and a revised property and navigation. Plus, new features like Table Framework, Bundles, and Scoped Buses unlock a new level of power to REAKTOR builders.
Changes in Reaktor v6.2.2
Added: Non-transposed nonlinear Sallen–Key filter.
Improved: Cleaned up the internal structure of the transposed Sallen–Key filters. The TSK NLA filter sound is slightly changed.
Added: 8-pole ladder filters.
Added: A completely reworked set of shelving filters.
Added: 6- and 8-pole bandpass Butterworth filters.
Added: 2nd kind (resonating) Butterworth filters.
Added: A completely reworked set of crossover macros.
Added: Configurable notch count for phasers.
Added: Thru-zero phaser and flanger, barberpole phaser and flanger, harmonic phaser.
Added: Asymmetric overdrive. Antialiased versions of symmetric and asymmetric overdrives.
Added: Bit and sample rate reduction effects.
Added: Compressor.
Added: Tempo and transport position synced LFO.
Added: LFO toolkit.
Added: Zero-crossing detector event processing macro.
Improved: CPU consumption of the Delay and ZDF Delay macros (slightly).
Fixed: Wrong phase deviation value at the output of the Phase Splitter macro inside the Freq Shift macro.
Fixed: Some of the Math macros were sending initialization even in cases where they shouldn't have.
Fixed: xy2polar and toPolar macros now handle zero input.
Fixed: OSX 10.13 – APFS formatted drives now show up in the browser.
The update is now available from Native Access.
Native Instruments is also challenging you to create an orginal Reaktor ensemble for a chance to win a Komplete Kontrol keyboard or Maschine MK3.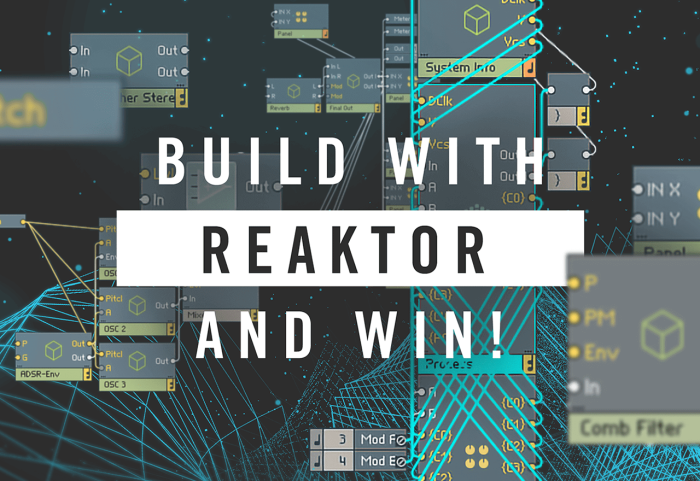 Building your own ensembles in REAKTOR is a ton of fun, and the lively REAKTOR builder community and the REAKTOR User Library are proof of that.

So join in – create and share an ensemble, and you could win a brand new MASCHINE or KOMPLETE KONTROL S49 keyboard, plus every NI software release for the next 365 days.
The deadline for submitting your entry is August 16, 2018.
Native Instruments will pick the best ensembles, and announce them on the NI blog on August 20th, 2018, after which you can vote for your favorite ensembles on the blog until August 27th.
More information: Native Instruments