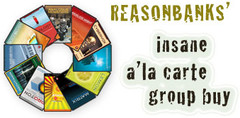 ReasonBanks has launched the ReasonBanks Group Buy 2011, a limited time à la carte group buy.
When you join this group buy, you pay 50 EUR. After the successful transaction is completed, you can compile your own TOP 10 list by identifying the products and the order in which you want to receive them.

In the first round you will receive the first two licences of your list. As and when the number of participants reaches the next threshold, you will at all such times automatically receive the next two product licence codes.

The number of the joined users will be updated on a daily basis, so you can always follow the status of the game prevailing at all times.
The group buy ends on April 4th, 2011.
More information: ReasonBanks