Propellerhead Software has announced the release of Reason's flagship Europa synthesizer as a standalone VST/AU plugin and in web audio format.
Europa is an infinitely powerful spectral wavetable synthesizer capable of creating unforgettable sounds using 30+ engine models and wavetables, 24 filter types, advanced modulation and powerful effects.
The Europa plugin and web version now bring these unending creative possibilities to even more musicians and producers.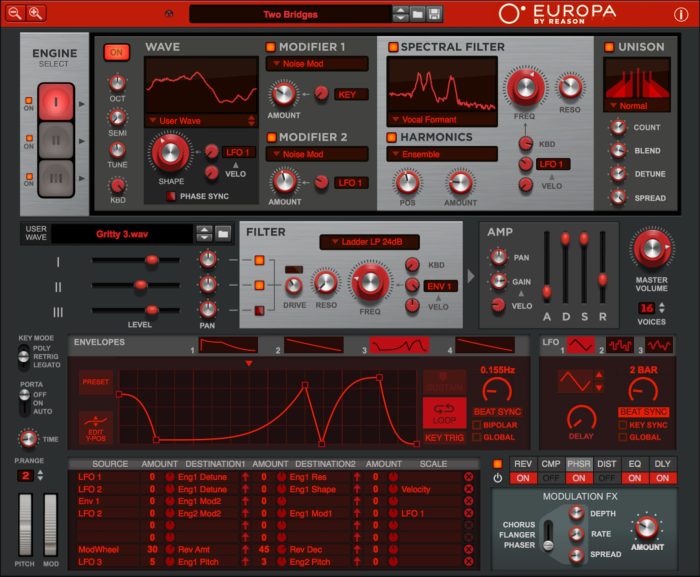 "Having recently updated Europa with exciting new features like sample loading and advanced spectral processing, we're now thrilled to make Reason's flagship synth available to everyone," said Ernst Nathorst-Böös, CEO of Propellerhead.

"This marks the first time one of Reason's devices has been made available as a plugin for other digital audio workstations and on the web. Europa will allow even more music makers to quickly create exciting new sounds."
Released in October 2017 with Reason 10, Europa is at the forefront of creative synthesis. Through accessible controls, sounds are shaped by bending and animating once static waveforms into kinetic modern sounds. With three independent synthesis engines, advanced spectral filtering, powerful modulation options, a full suite of effects, customizable envelopes, and over 500 presets from leading sound designers, Europa can create epic pads, huge chords, aggressive biting basses and everything in between.
The web version marks a true first, being a native web audio implementation of Propellerhead's proprietary Rack Extension technology. Customers are now able to try out the Europa plugin on the web.
Europa VST/AU is available for purchase for 99 USD/EUR until June 30th, 2018 (regular 149 USD/149 EUR).
All Reason 10 owners will get the Europa VST/AU plugin free. Reason 1-9 customers can upgrade to Reason 10 for 129 USD/129 EUR and get the Europa VST/AU plugin for free.
The plugin is available from Propellerhead Software.