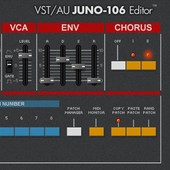 reKon audio has updated its VST-AU JUNO-106 Editor, a real-time MIDI synth editor that allows you full control of every parameter of the sound on the Roland Juno-106 synthesizer.
Now you can utilize your JUNO-106 to its full potential and build lasting and meaningful patches that will bring new life to your music. You can manage, view and edit all your patches on the computer itself without the hassle of manual dumps. All parameters are fully automatable and you can even use your favorite VST or AU host, or use it stand-alone, giving you the ability to visually program the JUNO-106 to your music via the host sequencer.
Changes in VST-AU JUNO-106 Editor v1.2.0
Fixed the 'Chorus 1' not getting set properly.
Editor now ('remembers') loads the last used settings for both MIDI settings and current preset.
New MIDI engine. Better buffering of data.
Modulation is now part of the preset and remembered.
Added tooltip displays to sliders. Hover over a slider to see its value.
Scroll wheel now increments in steps of 1.
Added Host MIDI IN-Out LEDs.
Faster randomize routine.
VST-AU JUNO-106 Editor for PC and Mac (VST/AU/Standalone) is available to purchase for $69.95 USD.
More information: reKon audio / VST-AU JUNO-106 Editor