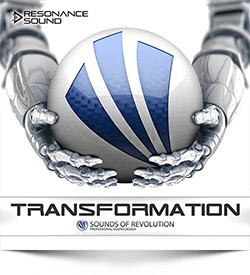 Resonance Sound has launched Transformation, a new sample pack from Sounds Of Revolution.
Fan of Bumblebee, Optimus Prime and Megan Fox? Well, we're not gonna deny Megan couldn't make it, however, the actual Transformers crew has never been better captured on audio!

Have a listen at the demo below and see for yourself why we think this is probably the most epic industrial / machine / robo sound collection ever. We promise: you'll still be able to hear every single screw move on the autobots. Plus we securely attached some decepticons for all who like it even darker.

More specifically, you may experience complex impacts, hydraulic movements, robotic vocal manipulation, breathtaking atmos, drills, shutdowns, startups, synth machines, user interfaces, heavy drums and fat basses.
Transformation features
3.12 GB of 24bit 96 khz WAV file.
879 samples in total.
Includes 72 Atmos, 27 Bass, 44 Cyborg / Vocalized, 38 Cyborg FX, 19 Drill, 122 Drum (Element & Percussion/Snare/Kick/Crash/Hat), 8 Demo Drumloops (140bpm) & Vocals, 9 Electromagnetic Field, 60 FX Mix, 65 Hydraulic Movement, 35 Complex Impact, 38 Pass By (Whoosh sounds), 67 R2-D2 Tribute, 21 Shutdown, 13 Startup, 18 Sub, 26 Synth Machine, 17 Transmission, 40 User Interface.
140 selected BONUS samples.
EXS24 & Kontakt 4+ patches.
44,1 kHz and 96 khz version available.
The sample pack is available for purchase for 49.95 EUR. Individual parts are also sold separately starting at 5.95 EUR.
More information: Resonance Sound / Transformation