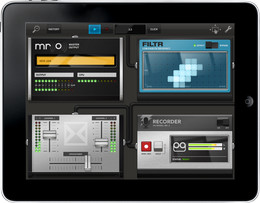 Retronyms has released Tabletop, a modular audio studio app for iPad.
The heart of Tabletop is a modular environment where you can mix and match different devices. Select from more than a dozen devices including samplers, mixers, effects, sequencers and more. Buy only the gear you need from an expanding catalog.

Tabletop is the first musical environment designed from the ground up exclusively for the iPad. Each device has its own uses, characteristics, personality—ranging from classics like drum pad samplers to touchscreen effects.
Tabletop features
15 unique Devices at launch.
300 sounds (multisample instruments, loops, phrases).
Record sequences, arrange into songs.
Adjustable quantization (pre- and post-record).
Recordable parameter automation.
Overdub and replace record modes.
Trigger sequences and patterns live.
Multitouch instruments and devices.
Sampling (internal mic, line in).
Adjustable tempo.
Import your own sound library, save presets.
Support for imported .mid phrases.
Insert and send/return (master) effects.
Undo history.
44Khz, studio-quality audio.
Sync 2 iPads running Tabletop or other apps with WIST.
Import sounds from dozens of apps with AudioPaste.
… and much more! See the full feature list.
Tabletop for iPad is available in a launch bundle for just $4.99 USD for a limited time. This special price includes 9 of the 15 modular devices, normally available via in-app purchase.
More information: Retronyms Tabletop