If you're into audio loop recording, you'll be happy to hear Audio Damage just made that a lot easier to do right within your DAW with the new Enso Looper plugin.
An architecturally unique and sonically characterful looping toolkit for producers and live performers, inspired by both modern looper pedals and vintage tape-based setups, Enso combines elegant and intuitive UI design with a deep but accessible feature set and stellar sound quality.
Enso lets you record up to 10 minutes of audio in a loop buffer. You can record freely or specify a predetermined length by setting the length unit and multiplier controls. Once you're happy with your recording, you can play, re-record or overdub the loop buffer or specific parts of it, which can be assigned to specific sectors.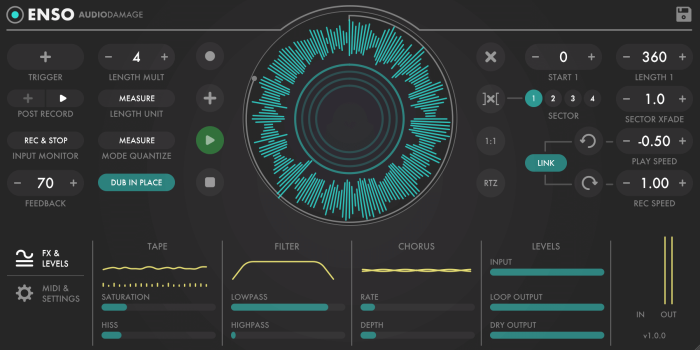 The circular loop display in the center of the interface shows where exactly in the buffer the playback or record heads are. Unfortunately you can't click/drag in the loop display, but the waveform of the recording makes it easy to set start and length values for sections. A crossfade duration can be set to create a smooth transition and blend the sound from one section with the other.
Switch directions, add some color
Now where it gets really interesting is the fact that the playback and recording heads can independently move in different directions, meaning that playback and recording can also be in reverse. Not only that, the speed of each head can be up to 4 times the regular speed in both directions.
Enso comes with three built-in effects: a tape simulation, lowpass and highpass filter, and a modulated delay-based chorus. These are just the right tools to add some character to your recordings, and when overdubbing you can actually re-record the output including effects by switching off the "dub in place" button. The feedback control determines how much of the original audio gets fed back into the recording.
Using the mode buttons, recording and playing a loop is pretty straightforward and you can quantize mode changes so that the new mode kicks in at your desired time. Easier still is the Trigger button, which lets you switch to record or overdub and play with a single action. Trigger on input is currently not supported but it looks like this may be implemented in an update.
If you want to use a foot controller or other MIDI device, Enso has 8 MIDI CC slots where you can assign things like trigger and modes, play and recording speed and direction, sections and more. Each slot allows for a value for "on press" and "on release", so you could set up something like overdub on a button press and change the mode to play when you release the button. Handy!
Also, it's worth noting that Enso comes with a preset section where you can store your settings and load your own audio files into the buffer, or save the buffer to file. It even lets you copy and paste settings across different instances of Enso.
For a detailed overview check out the walkthrough video by Chris of Audio Damage.
So what do I think?
I love this kind of thing. A lot of my music is made with the help of happy accidents and Enso is exactly the right type of tool to get some interesting material. Playing with the head direction and speed is tons of fun and a great way to come up with unusual sounds.
While I did check the manual a few times, the interface is really intuitive and it's easy to the hang of recording with this looper. The built-in effects are a nice addition and when overdubbing with the output fed back into the recording you can get some massive walls of sound.
Whether you want to record a live instrument like a guitar, vocals, or feed Enso virtual instruments or samples, this plugin is sure to inspire and get your creative juices going.
Enso is currently on sale for an intro price of $59 USD from the Audio Damage website and distributor Plugin Boutique so go check it out and see how you like it!
The plugin supports Windows and macOS (VST/VST3, AU and AAX formats) and iOS users can also pick up an AUv3 version at the App Store.