The mid 1990's was an exciting time for me musically. Coming from a staple diet of bands like Sonic Youth, Dinosaur Jr, Fugazi and the Cure, getting into music production with computers meant my interest in various genres of electronic music grew fast.
With drum and bass it was love at first sight. I instantly fell for the sounds from the likes of Goldie, Source Direct, Photek, J Majik, Dillinja, Lemon D, Ray Keith, Zinc & Hype, Trace, Ed Rush, and naturally Roni Size and his Full Cycle label mate and fellow Reprazent member Kirk Thompson aka DJ Krust.
I'm not sure which Krust track I heard first, but I know the one that made a big impact was Warhead. Whereas Krust's previous tracks resembled a lot of other early drum and bass tunes featuring the same classic breaks and 808-ish sine bass sounds, Warhead was different – jump-up if I'm not mistaken. I can still hear this tune without listening to it any time of the day.
Anyway, obviously I was excited to see one of the key players of drum and bass release an Artist Series sample library at Loopmasters: DJ Krust – Bristol Drum & Bass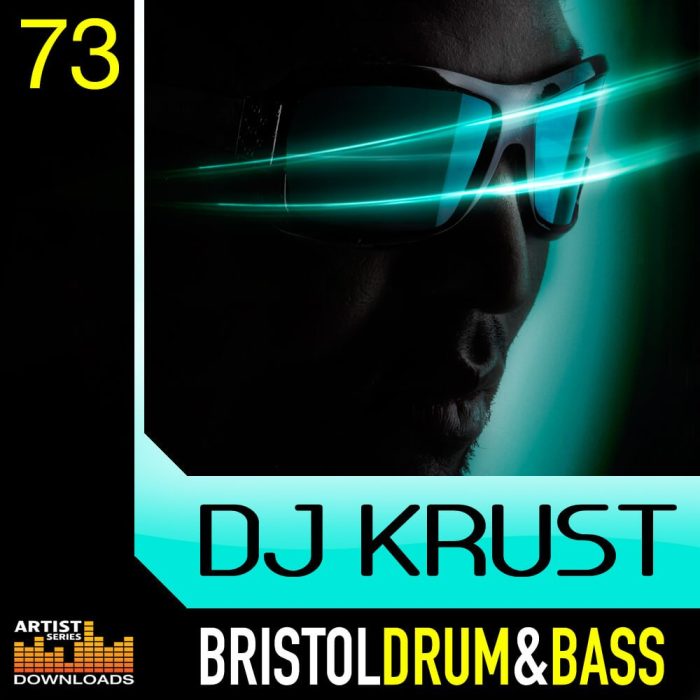 "Bristol Drum and Bass" is a collection of sounds and samples direct from the studio of DJ Krust, and should inspire new and established DnB producers worldwide and give access for the first time to some of the Tones and sounds which have been responsible for a large chapter of Drum and Bass History.
And guess what, the Warhead breaks are on it!
Here's a breakdown of the content of the Bristol Drum & Bass sample pack:
30 bass loops – 8 to 32 bars.
64 drum loops – mostly 8 bars with some variations.
30 music loops – mostly string, pad and fx type sounds.
24 percussion loops – congas, bongos, shakers etc.
Patches (and single shot sounds): 5 + 12 multi bass, 99 drum sounds (26 hihats, 39 kicks, 5 perc, 29 snares) + 5 drum kits, 7 + 9 multi instruments, and 62 sound fx.
The bass loops set the stage for this sample library. They are rough and raw. This is Krust alright. Same with the drum loops, tons of beats with the classic Krust sound – uncomplicated yet full of life. The music loops are a bit sparse. Most of them are pad type sounds and some come with accompanying tail loops so you really only get about 20 melodic loops. The percussion loops are spot on and mix well with the other content. I especially like the fast bongo percussions. All the loops have key and bpm info included where relevant.
The one-shot sounds included in this library are mapped in instrument patches and multis in various formats. Most of the multis have about 3 or 4 samples each so don't expect any deep sampled sounds. For bass, drums, and melodic instruments these sounds fit in perfectly with the loops. You can tell they come from the same place. The sound fx samples are a valuable addition to the pack, and once again add to the "Krust-factor" of this collection.
Check the video below for some more details about the sample library from the man himself.
So what do I think?
Product
: DJ Krust Bristol Drum & Bass by Loopmasters
Format
: Multi-format samples and sampler patches
Price
: £24.95 GBP
Like
: Authentic sound, valuable single shot sounds
Don't like
: A bit sparse on the music loops
Verdict
: 8/10
Drum and bass is a tricky genre. I happen to like pretty much all of its (sub)genres, but I can imagine if you're into jungle you might not like drumfunk. As far as Bristol Drum & Bass goes though, this is the real deal. I reckon that if you like drum and bass tunes by Krust, you will most definitely like this sample library as well.
The sounds are raw and authentic. It basically feels as if you were browsing samples on Krust's personal hard disk, which from the video I understand is exactly what this sample library is all about – a collection of sounds straight from the vault of a drum and bass legend.
Make sure to check the interview at the Loopmasters blog to learn more about Krust and this sample library.
More information: Loopmasters / DJ Krust Bristol Drum & Bass