Goldbaby Productions is a household name when it comes to quality drum machine samples.
Goldbaby's love for tape machines, vinyl and vintage instruments has resulted in a bunch of top notch sample libraries.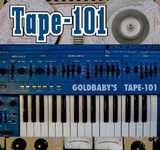 With Tape-101, Goldbaby brings yet another collection of sounds treated with some analog tape love. But it's not a drum machine this time around.
The SH101 is a legendary 80's analog synth. A small synth with a large sound. It can be warm and phat or nasty and raw. Some say the sound is a cross between a Juno and 303.

So… I have taken this little synth and created a sampled instrument library. Of course I haven't just sampled the synth naked. Oh no… I had to let the sounds get caressed by tape first!

Analog synth plus analog tape… Mmmm.
Tape-101 includes 1,658 24 bit samples, and over 70 instrument patches for both Kontakt and EXS24 (most of the instruments are multi-samples from every key on the SH-101).
I used the Kontakt version of The Tape-101, which has its instruments divided in 3 folders:
Drums & FX, 2 Drum Kits and an FX instrument with wobbles and such.
Gold Presets, almost 40 mono- and polyphonic instruments, extended and enhanced with the Kontakt sampler software (the SH-101 is monophonic).
Raw Ammo, 35 multi-sampled instruments with little or no software sampler modifications.
The samples are available as .wav files and like the Kontakt instruments they are clearly labeled so you can tell which kind of processing was done.
Goldbaby used the following gear:
Otari MX5050 1/4 inch 2 track, recorded normally and HOT.
Hitachi Cassette Deck, for some wow & flutter + Dolby C.
Boss SE-70, the digital multi-effects processor with an analogue distortion circuit.
E-mu E4XT, sampled and processed by this ultra sampler.
Akai MPC-60, for some gritty 12bit samples, dirty & phat!
A bit of secret extra processing was done on a few instruments (labeled _X) as well.
If you want to get an idea of the type of sounds you will get make sure to check the media player on the Tape-101 product page. Hugo did some lovely demo mp3s.
Tape-101 is available as a download for Kontakt and EXS24 (both formats included) for $49 USD.
So what do I think?
Tape-101 sounds deep, nasty & dirty… in a good way. It appears this synth was actually designed as a strap-on instrument with an optional modulation attachment that stuck out like a guitar neck. Weird, it doesn't seem like the keytar kind of synth to me at all.
Anyway, there's a good variety of sounds and they generally sound warm, punchy and fat (or phat if you prefer). Playing some of the instruments I hear the sounds of True Playaz and Dillinja, so I reckon they're great for drum & bass. The SH-101 is a popular synth so you might also recognize some if its sounds as there are tons of big names who've used it (Aphex Twin, The Prodigy, Bjork, Carl Craig, Squarepusher and Boards of Canada to name a few).
Tape-101 is another solid sample library from Goldbaby, highly recommended if you're looking for some heavy bass and cutting lead sounds for techno, acid, drum & bass, and the likes. Plus you get some lovely drum kits and a bunch of cool LFO effect sounds. What more could you want? (except a real SH-101)
Visit Goldbaby Productions for more information.