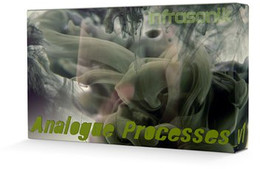 Infrasonik recently launched its first product Analogue Processes v1, a sample pack for Ableton Live.
Why Ableton Live? Infrasonik explains:
Infrasonik's philosophy is redefining the traditional audio sample pack into a powerful production environment that include effects chains, dynamics and EQ processing, macro controls, and channel strip presets that expand the sonic possibilities of your software.
That sounds like a perfect match for Ableton Live indeed.
Analogue Processes v1 features various 24bit percussion samples, recorded using analogue outboard gear including Rupert Neve, Chandler, API, Vintech, and Purple Audio.
Analogue Processes v1 features
42 Impulse Banks (High Hats, Claps, Kicks, Vox, Snares, etc.)
39 Impulse kits with modular processing chains.
15 Channel strips with analogue style dynamics and EQ.
15 EQ chains modelled on vintage EQs curves and responses.
39 Midi clips.
Since the processing chains are modular, you can easily swap "processing modules" between different kits and tracks.
The sounds are geared towards Minimal, Electro, Techno, Tech House, Progressive, Deep House, Glitch, and IDM.
Infrasonik has also put some effort into making sure you won't have any volume problems by carefully gain staging the kits, putting limiter modules at the end of dsp chains, and balancing effects to avoid level fluctuations.
So what do I think?
Let me start by saying that Ableton is currently not my host of choice, so I'd probably appreciate Analogue Processes' features like the modular processing chains a lot more if I'd use Ableton more often.
I did check out the samples individually in a different host, and although they're pretty cool on their own, it's the way Infrasonik hooked them up in Ableton which makes Analogue Processes so great. The processing chains & channel strips really add a lot to the vibe and in some cases radically change the sounds.
The use of macro controls is great for getting some quick results, and there are lots of things to tweak in the effect chains as well.
Ableton users should definitely check this one out. I believe its sound is spot on for the intended audience.
Analogue Processes v1 contest
You have a chance to win a copy of Analogue Processes v1, generously donated by Infrasonik. All you need to do is answer the 3 questions below:
Who is Analogue Processes v1 designed for?
What is the title of the 8th track in the list of Analogue Processes demo tracks?
What is the name of the demo kit featured in the free demo sample pack?
Simply enter by sending in your answers before September 1st, 2008. The lucky winner will be randomly drawn from all correct entries.
You should be able to find the answers on the Infrasonik website…