Not too long ago, Kontakt libraries were little more than a bunch of multi-samples mapped across the keyboard. Today, developers use advanced Kontakt scripting to create the most beautiful virtual instruments, with fancy user interfaces and advanced features.
Divergent Audio Group's Invasors certainly looks like some kind of boutique hardware synth. This analog-inspired synthesizer is geared towards synth leads and bass sounds with a gnarly tone.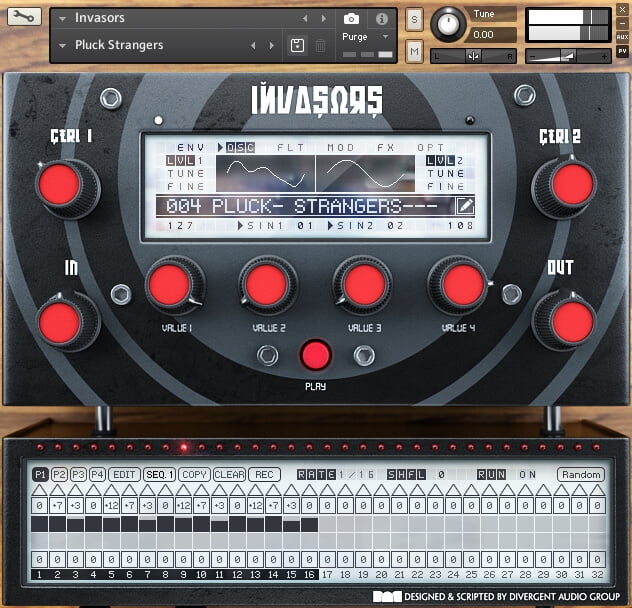 Notice those big red knobs in the screenshot of the lovely interface above? The idea is to edit parameters like you would on a hardware synth, going through the menus with a limited amount of knobs that you can link to you MIDI controller. Users of Native Instruments' Komplete Kontrol can use their NKS keyboard to control every parameter in real time.
So instead of using tabs in the interface, you can use the knobs (or simply click) to select the menu items from the LCD-type screen, which include envelopes for amp, filter and pitch, oscillator settings, filter, modulation, effects and options.
In the oscillator section you can combine one of 128 waveforms for each of the 2 oscillators. Clicking the waveform will pick a random one, for instant inspiration. Each oscillator has individual level, tune and fine tune.
Four filters run in serial: LP53, Daft, Formant, and Highpass. Each one can be set to be modulated by the filter envelope or one of three LFOs available from the modulation screen. The LFOs can run at speeds from 1 bar up to 1/32 triplets, and each LFO has a different shape that starts with a sine waveform and transforms to either triangle, saw or square, morphing by whatever amount you specify.
Moving on to the effects we find a phaser, flanger, chorus, lo-fi, dynamics, equalizer, delay and reverb. It seems they run in serial so you can't swap effect units around, but they are in the order you would probably use them most the time.
The last screen has unison and voice options, and a shaper section that can substantially alter overall sound with waveform bit depth requantize, resampling, noise and stereo spread. Other settings include amp and filter velocity senstivity, filter retrigger, and pitch bend range.
Invasors also come with an advanced sequencer, located in the bottom of the interface.
Our most advanced and dynamic sequencer allowing control over Glide, Pitch, Velocity, Note Length, Cutoff, Resonance, Lofi, Phaser, Flanger, Chorus and Reverb.
Includes advanced Randomisation modes and Trigger modes such as Latch and Retrigrigger as well as midi export for all generated patterns.
Quite a few of the presets included with Invasor demonstrate to power of the sequencer, which makes it really easy to add interesting movement to a sound.
Check out the walkthrough video below for a quick overview.
So what do I think?
Well, I definitely like the sound of Invasors. It is a wonderful instrument for getting some rough and gritty bass and lead sounds, as it says on the tin. But it goes way beyond that as well. Soft pads, delicate cinematic tones and crazy wild sound fx are at your fingertips with just a bit of knob twiddling. Invasors is a lot more versatile than I expected.
I get the idea of menu diving and it sure makes for a pretty user interface, but I prefer to see more of my controls and parameter values on the screen. That said, the menus are laid out well so it doesn't take long to get used to.
The sequencer is great for creating dynamic patterns, a proper tool for inspiration.
At £110 GBP (+ VAT if applicable) I would say Invasors is a bit on the pricey side, but it does run in the free Kontakt Player so you don't need the full version of Kontakt.
Overall, this is a really interesting instrument that has a unique tonal quality and tons of features for designing your own sounds.
More information: Kontakt Hub / Invasors