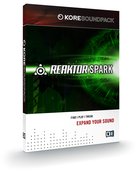 Native Instruments keeps the fresh KORE content coming with its latest release REAKTOR SPARK.
As its title suggests REAKTOR SPARK is a Reaktor-based SoundPack.
REAKTOR SPARK is based on a new and unique REAKTOR ensemble, resulting from three years of design and development work by Native Instruments founder and conceptual mastermind Stephan Schmitt. This KORE SOUNDPACK breathes new life into the concept of the subtractive synthesizer, adding a dynamic and unpredictable element that causes sounds to ignite into living and sometimes chaotic entities. As the father of REAKTOR, Stephan Schmitt has designed REAKTOR SPARK as his very own statement in synthesizer design.
Stephan has his own ideas when it comes to what makes a good synth — you can read more on that at CDM — character, playability and expressiveness are key.
The main concept behind Spark is to allow dramatic real-time influence on the sound source.
Spark is basically a 2 oscillator (pulse and sine) synth which gets its interesting character from a signal path that lets the feedback signal control the oscillators by frequency modulation and/or by hard synchronization for the pulse osc.
To influence Spark's sound in KORE you get four pages of parameters:
Synth Essentials, provides access to the Spark Ensemble's most important parameters.
Mix & FX Essentials, holds a set of effects and mix controls.
More Synth & FX, holds controls that let you fine-tune your synth and effects settings.
Macro Controls & LFO Page, holds macro controls that let you tweak two parameters at once.
In these four pages you can control many of Spark's parameters. If you want even more control over the synth you'll a copy of Reaktor.
There's a ring mod/filter, waveshaper, cabinet saturator, 8-pole filter, modulation delay and reverb. It has envelope sections for amplitude of the oscs and for the modulation (you can also control the amount of modulation for various parameters), LFO controls and a mixer panel to control what gets routed to the external effects chain.
A Special Section is available for the signal feedback controls which make up much of the sound.
The Modulation Macro Controller section lets you assign up to 3 sets of sources and destinations for modulation, which can be controlled by 3 sliders. These macro controls are also available in your KORE (Macro Controls & LFO Page).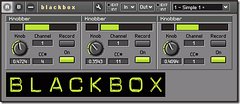 Note: Peter Dines created BlackBox Recorder, a handy motion recorder for use with KORE.
It's a Reaktor motion recorder designed especially for use in Kore in conjunction with Spark. The three knobs are mapped to the three macro controls in Spark, and record your movements, then play them back. Since the motion comes from you, from your reactions and musical intuition as you play, it's a live and human kind of modulation source – but it also gives you three extra hands to perform.
REAKTOR SPARK comes with 200 KoreSounds and 1,400 sound variations. The product page lists aggressive leads, lively keys, snarling basses, fast percussions, enchanting pads and evolving soundscapes as the types of sound to expect from this Sound Pack.
Visit the REAKTOR SPARK product page for more details and audio demos. Also be sure to check the video of Stephan Schmitt on REAKTOR SPARK.
So what do I think?
REAKTOR SPARK has a lot to offer to KORE 2 and KORE Player users, especially with 4 pages of parameters that let you transform the 200 presets it comes with into your own sounds.
I really like the type of sounds Spark does. It can be extremely raw and unpolished but it also has a real gentle side to it. I think it only took a few minutes with Spark before I knew this was going to be my new favorite SoundPack (I won't forget you FM8 Transient Attacks, I promise!)
Now it may be good to know that Reaktor is probably my favorite piece of software. The sonic palette of Reaktor is truly mindboggling. You only have to take a look in the NI Reaktor User Library to see how versatile it is. Actually, the ensembles included in Reaktor 5 already show this.
I have used hundreds of ensembles yet nothing sounds like Spark does. Stephan really managed to create something new and exciting, so well done!