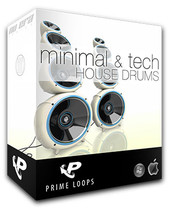 Prime Loops recently released Minimal & Tech House Drums, a collection of over 1,000 drum sounds.
From the product page:
Prime Loops are extremely proud to present Minimal & Tech House Drums which contains 1,000 skilfully hand-crafted drums painstakingly designed over a period of 6 months – from scratch, using over 20 high-grade analogue synths. These include: Access Virus B/TI, Korg Prophecy, Jomox Airbase99, Polivox Synthesizer, Juno-106 and many others. The drums have been mastered using TL Audio Ivory and enhanced using a host of the finest studio hardware processors.
The collection includes:
200+ Synthesised Claps & Snares
200+ Crystal Clear Cymbals & Hi-Hats
300+ Synthetic FX & nu-era Analogue Percussion
100+ Sonically enhanced Kicks
100+ Pristine Snares
Toms, Shakers and lots more.
Minimal & Tech House Drums is available for download in a variety of formats for £12.95 GBP (~19 USD, 15 EUR).
So what do I think?
I always tell myself that I don't need more electronic drum sounds (and it's the truth isn't it), but since Prime Loops was kind enough to send me a copy of Minimal & Tech House Drums I now have yet another 1,000 samples in my sample library. How will I ever be able to use them all? Well, probably not.
Anwyay, this *is* a great collection of drum sounds. Perhaps not so surprising since the guy behind these samples is none other than Cyberworm. Doesn't ring a bell? Make sure to check his website Rhythm-lab.com, where he has been offering quality free samples since 2007 (the Vermona DRM1 MKIII samples he released a few weeks ago are top notch).
At just under $20 this library is a regular steal. Certainly when you do need more electronic drum sounds, but perhaps also when you don't.
More information: Prime Loops