Back when I reviewed Rob Papen's SubBoomBass bass synthesizer, I remember that with its sequencer and percussion waveforms this plugin could be a good starting point for some kind of dedicated drum instrument.
Perhaps Rob had the same train of thought, as the RP team recently kicked it up a notch with Punch, a full-fledged drum & percussion synth and sample player plug-in for Windows and Mac.
You can use synthesis and the build in samples to build your own unique sounding drum-kit, but also your own samples can be loaded into Punch to complete your kit. Your sounds can then be crafted using the stunning features, filters and huge synth power we all know from other RP synthesizers.

Punch has a unique sound but also built in sequencers, allowing you the user to have multiple patterns at your finger tips. These grooves can be triggered in a live environment to build a song, but are also great for just improvisation and jamming!
Just below the preset manager in the top left we find a black bar with 5 buttons, which toggle panels with various sets of controls.
Punch's main control panels:
Easy

– some general controls which let you modify parameters for all modules. Includes synth/sample pitch & decay, filter controls, pitch envelope, LFO controls, and 4 silders for mixing the fx.

Pads

– this screen shows the selected drum synth/sample module, and controls for the effects.

Mixer

– volume and panning for all 24 pads, as well as mix, pan & and bypass controls for each of the 4 fx units.

Mod/FX

– 2 envelopes & 2 LFOs, and a panel with 8 modulation slots. The effects section is also shown in this screen.

Manager

– manage patterns, drumkits, presets and banks.
The sound
Let me jump straight into the pads section for a bit. A total of 24 drum pads are available for triggering sounds.
For each drum sound you can pick the sound source from a number of synth models, built-in samples (over 250 classic, Punch, and percussion models included), or use external samples.

The synthesizer models include various parameters to shape the sound of the bass drum, snare, hi-hat, clap, tom, and user modules, depending on the module and model you choose. So for instance Tom module 1 uses a single oscillator to generate sound, module 2 add a frequency modulator & click/noise oscillator.
The user module features no less than 6 models, based on filtered noise, frequency/ring modulated oscillator, frequency envelope, amp modulation, etc. The flexibility of these synth modules allows for a wide range of drum and percussion sounds, or more tonal sounds if you fancy.

With the built-in samples you get instant access to tons of high quality sounds, still with plenty of controls for tuning, filter, amplifier envelope, and sample parameters (offset/retrigger/reverse).
Already have a class drum sample library? No worries! Punch includes 8 sampler pads in which you can load your own samples, or use some from the nice selection of samples that comes with Punch.

The sampler module can hold 2 samples per pad and allows you to trigger them in various ways, like mixing the sounds, play either A or B with velocity split, or have them trigger alternatively. The sampler module also allows you to loop a sample (you can set loop points), reverse the sample, set offset and retrigger parameters, and apply a filter, amp envelope, and stereo controls for creating panning fx.
With version 1.01 Punch features sample drag and drop so you can load your samples directly into the sample pads by dragging them from your file manager. Unfortunately this doesn't seem to work with my host of choice, FL Studio (Ableton works fine). Alternative is to load the sample via sample file screen but the path's top level is currently limited to Punch's sample folder. I really don't want to create duplicates of my samples just to be able to use them in Punch, so I was happy to hear from developer Jon that a custom user sample path option is in the works for the next update.
So far so good! The sound design options of Punch are impressive.
The sequencer
While you may not necessarily want to do much sequencing outside your host software, this part of Punch has some interesting features.
You can create up to 8 patterns – 4 grooves and 4 breaks, though these are simply labels so you can program them any way you like. Each pattern has 4 tracks. This means you can assign up to 4 individual sounds per pattern. Various controls are available for the (up to 16) steps, including things like tune, flam, offset, and free modulation values.
The patterns are triggered by MIDI notes. There's a latch mode to keep the patterns going so you can easily combine various grooves and breaks. Interestingly enough you can not stop patterns except by switching off the latch, but this stops everything. I think a per track latch toggle may be in the works for an update.
Other options in the sequencer include things like swing, humanize, flam, etc. I usually program drum parts in my host but I must say playing with the patterns in the sequencer is an inspirational and fun way of building beats. So don't limit the use of the sequencer to live performance use.
And more…
Punch comes with a large selection of effects (26) which can be assigned to 4 separate units. The effects can be routed in various ways (parallel, serial & combinations of feeding outputs to inputs), and you can modulate two effect parameters per unit with a selection of 60 mod sources. With the multi-output version of Punch you can set the effects output to separate channels, which is great since you probably want to do some additional processing outside Punch.
I prefer to apply effects outside the sound source myself, but the option to modulate fx parameters within Punch is a good reason to use the built-in effects as well. If you don't have all that many additional effect plug-ins, the ones in Punch will go a long way.
The dedicated modulation (mod/fx) screen shows 2 envelopes and 2 LFOs, plus another 8 modulation slots with modulation source, destination, and modulation mod source (as a source for modulation amount).
With so many options and panels you might feel a bit overwhelmed. I think Punch is the first plug-in by Rob that made me want to check the manual. And you probably should to make sure you don't miss any useful features. That said, after clicking around for a bit it was clear to me that Punch has the same top notch usability and workflow I have come to expect from the Papen stable.
Some of the main screens are especially geared toward quick and easy manipulation of the sounds. The Easy panel will let you change general parameters like pitch, filter & fx for all modules – except for those which have "easy bypass" enabled. A Mixer panel is available with volume and pan controls for all modules and mix, pan and on/off for the fx units.
The Presets section in the top of the GUI includes some handy functions like favorites, quick browse, and recently browsed.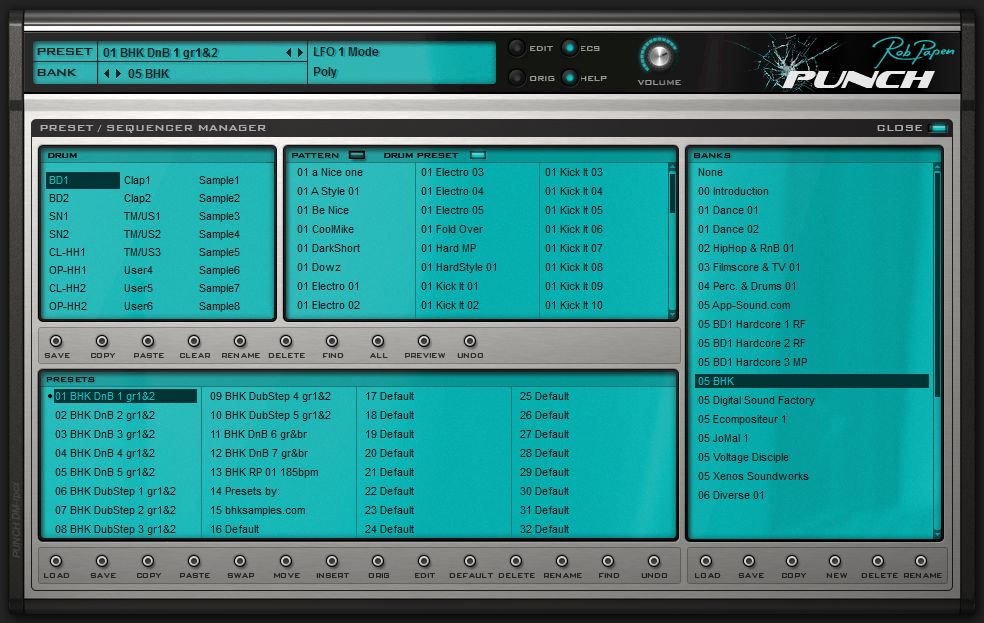 As per usual Rob has made sure to include tons of quality presets with this plugin, and even more presets will be released for it over time. Use them straight from the box, or check them out to learn by example.
For more general management of presets/banks, drum sounds/kits & patterns there's the Manager screen, featuring a variety of tools, such as copy/paste, swap, find, preview, etc.
So what do I think?
Product
: Rob Papen Punch
Format
: VST/AU/RTAS
Price
: €149 EUR / $179 USD
Like
: vast sonic range, easy of use, sequencer
Don't like
: lacklustre GUI
Verdict
: 9/10
Punch is combination of many good things. It is incredibly deep, yet remains easy to use. I am not totally taken by the interface – particularly the teal colors I guess, but though I wouldn't mind a more appealing interface, Punch does have a great layout, keeping things nice and organized.
Whether you want to draw on the excellent preset sounds for quick satisfaction or tweak synth and sample modules to your heart's desire, Punch is a proper drum workhorse in any setup. You can simply use it as a high quality sound source for your productions, or get inspired with the extensive possibilities of the sequencer.
The Rob Papen stable delivers yet another top notch instrument that feels like home right away. I found it sits in the mix really well and besides the vast feature set, it's just plain fun to work with.
You can check some audio demos on the Punch product page, but to get a good feel for this "drum beast" you should probably just download the 30-day trial version and take it for a spin yourself.