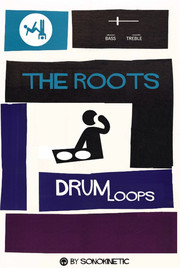 Recent Sonokinetic releases seem to have redirected the company's focus from "orchestral sampling" to DJ and urban type loops and samples. Even the previously released sample packs have received a new look to fit the new style Sonokinetic.
Sonokinetic's latest product The Roots Drumloops is a collection of drum loops with a focus on funky, tight RnB grooves and alternative Hiphop beats.
This library offers you a large set of acoustic drumloops for you alternative hiphop , funk, soul and many other featured-styled projects.

Created by hand, this massive drumloop-library provides over 3,7 GB of top designed percussive drum audio. This time we've chosen the most famous and multi functional sample formats available: Wave, REX2 and Appleloops.
The Roots Drumloops features
3,77GB content (over 2,000 loops and samples):
– Acoustic drums – 1,600+ loops; all live recordings.
– Remixed drums – remixed/effected versions of some of the acoustic drum loops.
– Elements – drum kit samples, turntablism loops (e.g. scratches) & vinyl fx.
Formats: Wav, Apple Loops, REX2.
Sample resolution: 44.1kHz and 48kHz / 24bit stereo.
Custom Convolution Reverb Impulse "the Sonokinetic recording stage" included.
The library is well organized featuring various folders to group content. Sonokinetic has chosen to first let you pick the type of sample content (e.g. acoustic drums, elements), then the format — Apple Loops, REX, or Wav, following tempo groups and sub folders.
I would have preferred to have a format folder first and have all the relevant samples in those to minimize folder browsing. Nonetheless, it's good to see a library of this size to have a clear structure.
With three tempo folders (90, 100, and 110bpm) and 65 themes between them, the "Acoustic Drums" account for the larger part of this sample pack. The individual folders each include a number of variations with the same groove and sound, sometimes also including kick-less beats and loops with singled out sounds like just the kick and hi-hats. The drum loops generally have a nice laidback groove, perfect for hip hop beats.
The "Remixed Drums" folder also has the same three tempo folders, but this time each one of those just contains some 50 loops. These loops (a selection from the acoustic drum loops) were enhanced and remixed by a DJ. So basically, the loops are cut up a bit and get some effects like reverb, delay, bit crush, and more. This results in both some rather dull as well as some unique and inspirational beats.
To add some spice to your grooves you get more than 250 "Elements". These include single shot drum sounds, turntablism samples and vinyl fx.
So what do all these samples sound like when put together? Have a listen below.
You can find some more audio demos on the product page, and a small selection of loops is available to download (requires email registration).
So what do I think?
Product
: The Roots Drumloops by Sonokinetic
Format
: Multi-format: Apple Loops/REX/Wav
Price
: 19.90 EUR
The Roots Drumloops is well organized and has tons of quality drumloops. Perhaps a bit too many actually. Although I do enjoy these drum loops quite a lot, things can become a bit unexciting after listening to hundreds of beats with the same drum kit.
The acoustic loops do offer some variation in sound by subtle drum kit setup changes and some creative effects processing but you still get a lot of the same-ish beats. But hey, should I really complain about having too many loops? Of course not, but maybe it would be a good idea to re-package a smaller "best of" collection of loops for those who don't have fast broadband or unlimited harddisk space.
The remixed drums are a bit of a hit and miss for me. The effects used on these loops seem somewhat generic and superfluous, though I did find some real gems among them too.
The elements folder is very useful. You get a nice selection of single shot samples of the drum kit, and the scratches and vinyl fx samples are great to add instant authenticity to the acoustic loops.
In short, The Roots Drumloops is a comprehensive pack of grooves for hip hop type music, with some useful extras. Great value for money too.
More information: Sonokinetic