After the release of the Diversion synthesizer back in 2011 (early 2013 for Mac), and the Diversion-based DiversionFX Computer Music Edition multi-effect plugin in March 2012, things went a bit quiet over at Dmitry Sches. There were the occasional updates, but nothing new for quite a while… until a few weeks ago.
Meet Tantra, a rhythmic multi-effect plug-in for Windows and Mac.
The main idea behind Tantra is as simple as effective: whenever you would like to add some rhythmic pattern to any kind of sound, no matter if they flat or dry, a lifeless basic synth sound or deep evolving pad, if you would like to just reshape your already created complex arpeggiated sequence and make it sparkle in few clicks, let Tantra do the job!
To create these rhythmic modulations, Tantra features 8 sequencers/modulators. Each sequencer has a 32-step envelope with adjustable shape and different operating modes. The Step mode offers up to 32 steps with an adjustable level, and the Curve mode uses up to 64 nodes with variable-slope curves.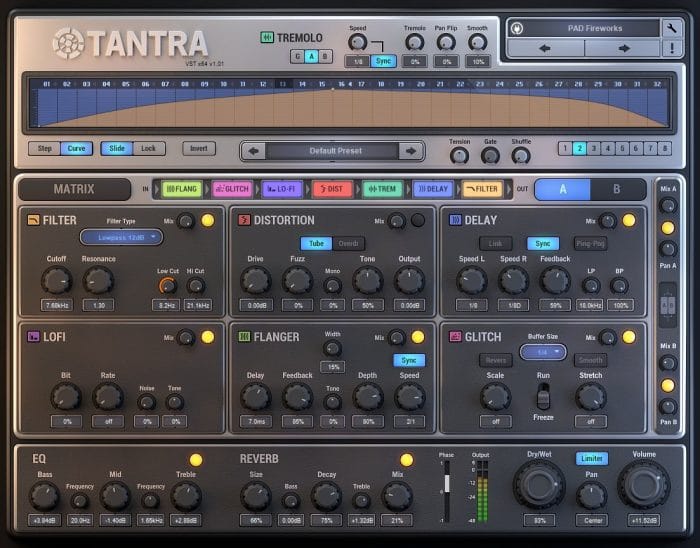 The steps run either synced to host from 1/32 to 4/1 (including triplets and doublets) or free running from 25 ms to 10 sec. Steps and nodes are easy to modify and you can copy/paste the modulator settings or load/save presets.
Each modulator has built-in tremolo and pan flip for modulating the output volume and panning. A smooth control lets you tame clicky sounds by modifying the sharpness of the envelope.
Furthermore Tantra has two layers (A and B) of 6 effects:
Analog-modelled multi-mode filter (LP/HP/BP, Phaser, RingMod, PitchShift, OctaveBand and Vowel).
Multi-stage circuit-modelled distortion with analog tube simulation and classic overdrive effect modes.
Stereo delay unit, synced or free running (10 ms to 2 sec), with ping-pong mode.
Lo-fi bit depth reducer & decimator. Add some digital noise or color the sound with an algorithm that simulates spectral loss in telephone lines.
Flanger effect allows widening sounds and colorizing them.
Glitch buffer/stutter effect with variable buffer size, stretch and more.
The effects are processed according to the order of modules in the routing control. The tremolo will only be inserted in the A or B layer when it is set accordingly (when set to Global the tremolo and pan flip will be inserted after output of both layers). The layers can run parallel or serial, and mix, pan and bypass controls are available for both.
To the left of the routing control is the modulation matrix button, which shows a comfortable 24-slot matrix where you can assign modulations to pretty much all parameters. Small niggle, I would like the modulation depth to show me a value when setting the slider. For the controls on the interface you can also right mouse click and add modulation on the spot.
In the bottom of the screen is the Master Section with a 3-band EQ, a reverb unit, and the master output with phase and output meters, dry/wet, pan and volume controls, and a limiter.
Tantra comes with 118 presets in 4 factory banks, showcasing a wide variety of effects. Check out Dmitry's audio demo to get an idea of the type of sounds you can get from Tantra.
So what do I think?
This thing is deep! With 8 modulators, 2 x 6/7 modules each and 24 modulation slots, you can create some really complex effects. The effects are high quality and the large interface is easy to work with. Notebook users will be pleased to see that Dmitry has also made a compact view for smaller screens.
CPU use is a bit high (about 5-10% on my machine). You can turn off various parts to save CPU if need be, but I guess a draft/eco mode would be helpful. The sound quality is great though, so I guess that's what you pay for with CPU cycles.
I have tried Tantra on lots of material, and it does do a great job adding rhythmic patterns to anything you throw at it. It is also a lot of fun to work with.
Tantra is available for Windows and Mac (32/64-bit VST/AU) priced at $69 USD.
More information: Dmitry Sches / Tantra