One of my favorite synthesizer instruments from last year is ElectraX by Tone2 Audiosoftware.
Although initially put off by its visual appearance (I prefer less screamish graphics) I still decided to give the demo a try and quickly found myself playing with it for hours.
Here is a quick overview of the main features of ElectraX.
ElectraX features
4 individual 3-oscillator synthesizer modules.
Synthesis methods include virtual analog, ultrasaw, FM, fractal, phase distortion, wavetable, and many more. A total of 45 oscillator types are available.
2 multi-mode filters (23 filter types) for each synthesizer module, includes distortion module with 6 modes (fuzz, tube, crush, etc.)
Each synthesizer also has an individual arpeggiator, envelope generator, LFOs (3 global/voice, 1 step), a modulation matrix, and a wide selection of insert effects.
Various sound modes (including psychoacoustic) and microtuning modes.
Master effects section with the same 18 effects from the insert effects sections. Reverbs, delays, vocoder, trancegate, chorus, flanger, etc.
Just in case it is not clear from this short list of features; ElectraX does things XL.
However, that does not mean ElectraX is complicated. On the contrary, this synthesizer has a simple signal path, making it easy to program. I don't consider myself to be much a sound designer, yet ElectraX had me creating my own sounds right off the bat.
The ElectraX user interface is designed to make patch designing and editing intuitive and fun. All the sound editing parameters for a single layer are kept on a single page so that you can see the signal flow without getting lost in multiple tabs and pages. Each of the four layers are identical in function and has it's own page which can be selected by the 'SYNT select' buttons above the oscillator section.
ElectraX comes with 4 different skins that can be activated for each of the layers. By editing a simple text file you can pick a color or color scheme.
The synthesizer (each of the 4 synths) has 3 oscillators with tons of synthesis options, including some unique and exclusive features like Tone'2 newly developed Fractal synthesis, which can mimic the behavior of organisms or analog circuits.
The oscs can be synced, there's FM and PW modulation, mix controls and more. The "Inter" control is a particularly interesting one for FM synthesis. This ratio setting controls the interval between the frequency of the carrier oscillator and the modulating oscillator, allowing manipulation of harmonics.
The signal gets fed into the multi-mode filter units (proportionally to the synth's mix12 parameter setting), which also house the distortion/waveshaper controls. The filters run in serial or parallel mode, and ring modulation can be applied between them. A display screen shows the filter action as it moves around, e.g. when modulated. You can emulate some hardware analog filter characteristics (circuit-modelled) with the aptly labeled "Analog" knob.
Next is the insert effects module, which lets you select one of the 18 bpm-syncable effects. The selection includes 3 reverbs, 4 delays, 5 modulation effects, a trancegate, compressor, amp sim, equalizer, surround encoder, and vocoder. Most effect only have a few parameters, enough to spice up a sound a bit.
Beneath the insert effects module is the LFO section, offering 4 individual LFOs.
ElectraX has three very flexible high-end LFOs that support 256x oversampling for a clean sound. The LFOs even can be used as additional sources for sound generation (FM/Filter FM/AM) since they can support frequencies up to 440 Hz.
The first three LFO's have speeds from 0.06 Hz to 440.12Hz, syncable from 1/32 to a whopping 16 bpm, which is great for creating long evolving sounds. No less than 14 waveforms are available for each LFO, and you can control the fade in time (1ms to 21sec) and set the start position/phase of the LFOs. A fourth tab features a 16-step sequencer LFO, running free or retriggered.
The arpeggiator run on 1/4 to 16 bpm and has some useful features like an auto chordgate mode, swing options, and velocity settings including release, loop & end parameters.
Four envelopes (labeled Volume, Filter, Aux 1 & 2) have the familiar ADSR knobs, plus a Hold parameter available in the little display screen. Changing the Shape parameter creates non-linear, logarithmic curves with smooth start and end values, also visible in the display.
The flexible modulation matrix (with 10 slots) lets you modulate most parameters of the synth with LFOs, envelopes, key, aftertouch, pitch- and modwheel, velocity, and more.
Just above the mod matrix is a section with some general settings. Some parameters only affect each individual synth layer (play mode, glide, pitch wheel range, layer & MIDI channel split, and velocity range), others are for every layer in ElectraX (sound mode, microtuning, and quality).
Now take all this and multiply by four, add a 3-band equalizer and master effect unit (identical to the insert fx) and there's your ElectraX patch!
To get you started Tone2 has included 560 presets in various categories, showing off the instruments capability of producing just about any sound. Sound categories include bass, leads, pads, fx, atmos, arps, etc.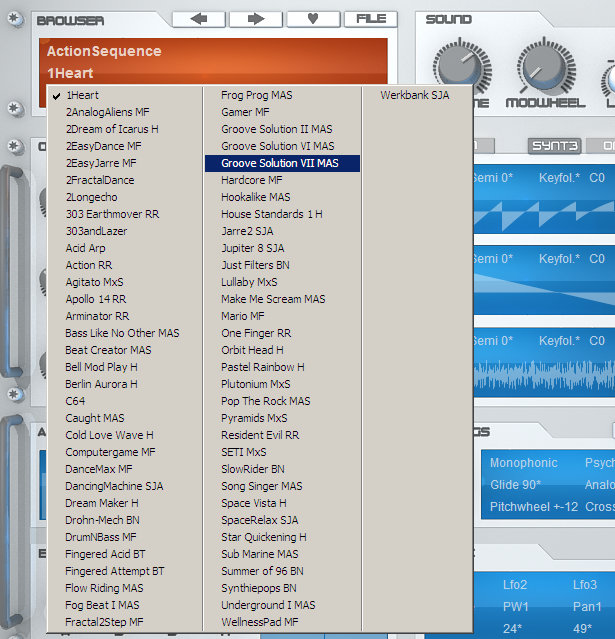 The first category — cleverly named ActionSequence instead of Sequence so it's the first thing you see, is a nice introduction to the use of multiple layers. These impressive patches are complete beats and melodies on a single note.
The general settings section I mentioned earlier also has some useful functions for creating your own patches. The init button lets you reset the layer and mod matrix values, or pick one of the available templates as a starting point, and copy/paste functions are available for the patch, layer, and oscs.
So what does it sound like? ElectraX features so many synthesis methods and options that you can use it to create virtually any sound. Check Tone2's official video overview by Dan Worall below.
So what do I think?
Product
: ElectraX by Tone2
Format
: Standalone and plug-in for PC and Mac (VST/AU)
Price
: 189 EUR / $199 USD
Like
: easy to use, high quality sound, versatile & powerful
Don't like
: the looks
Verdict
: 9/10
To be honest I wasn't really interested in ElectraX until I heard Tone2's audio demo. In this demo mp3 I heard many sounds I liked, but moreover it showed some incredible versatility.
Pushing past a GUI that did not attract me much, I quickly fell in love with ElectraX. The synth is easy to program and just sounds fantastic to my ears. It produces sharp/piercing/harsh digital sounds as easily as it does thick analog style ones, plus the lot in between. This synth quickly became a favorite in my productions.
ElectraX is great for both beginners and experienced producers & sound designers, offering an abundance of features without ever getting too complicated.
A demo version is available to download from the Tone2 website, so check it out and let me know what you think.